Universal Standard Is Giving Away Gorgeous Basics In Time For The Holidays
by Valerie Williams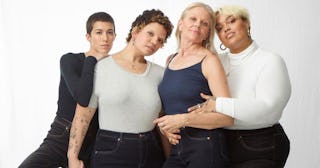 Universal Standard
Universal Standard is giving away pieces from their Foundation collection for only the cost of shipping
The inclusive and woman-owned clothing company Universal Standard has a pretty incredible gift for us during this stressful election/holiday season. They're giving away gorgeous basics from their Foundation collection, and all you pay is shipping. In this trash fire season of our lives, free (comfortable, flattering) clothes are definitely a welcome tidbit of joy.
"We can all agree that 2020 has been a year. This is an overwhelming time to say the least, and we imagine our community is feeling it on top of their day-to-day" the brand explains. "To appreciate all that you are, we'd like to gift you a little bit of comfort. Get a free piece from our supremely soft layering collection for just the cost of shipping & handling ($15)! Psst… if you're checking out with other things then shipping will be free."
Hear that, y'all? FREE. The items range from $38-$72, so this is one heck of a steal. From short-sleeve basic crewnecks…
… to camisoles you can wear under anything…
…they've got you covered.
Bodysuits are hot right now and how perfect is this turtleneck version for the upcoming chilly season?
The bodysuits come in crew neck too, and could they be more versatile? All those tired of shirts that ride up or refuse to stay tucked, raise your hand.
Or maybe this tank dress you can wear with or without a chic button-down shirt over it? Or cardigan? This dress is literally begging to be styled 100 different ways.
Between the different choices for necklines, sleeve lengths, colors, and styles, they can please anyone's taste. Also, the items all come in the brand's full range of sizes, 00-40.
Let's face it — simplicity is key for moms pretty much always but especially now that we've morphed into full-time homeschool teachers, work-from-home employees, overseers of Zoom Halloween costume parties, and whatever else we have going on. That's not to mention the constant onslaught of scary pandemic and election news. The least us moms deserve is comfy, go-to basics that makes us look amazing while we juggle literally everything.
The giveaway entitles you to one item from the Foundation collection for the cost of $15 shipping. The code is FREEFOUNDATION. Now go work on getting through the rest of this looney year wearing comfy basics that make you feel fantastic.