Universal Standard's Popular Mystery Boxes Are Back Today — Starting At Just $55
by Gina Vaynshteyn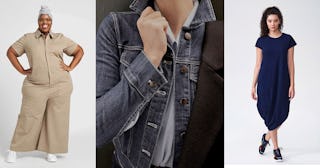 Universal Standard
From February 10-17, one of our fave clothing brands Universal Standard (known for their inclusive sizing and basics so comfy you could literally sleep in them) is bringing back the Mystery Box. If you participated in the event last year, then you'll know Universal Standard's Mystery Boxes are personally curated boxes filled with the brand's top three best-selling pieces. The value of the clothes you get is $600, but the price of the box starts at just $55 — which is amazing if you're an avid Universal Standard shopper. *Get an additional 10% off with the exclusive code SCARYMOMMY10*
This year is extra special because Universal Standard is launching some sweet styles in time for spring, and you'll get to be the first to have the items.
Here's how Mystery Boxes work: You take a survey and let the brand know what styles you prefer. Universal Standard's stylists also have your purchase history to work with, so while the Mystery Boxes are a mystery, you'll still be sent a box that's curated to your wants and needs. According to Universal Standard, over 350 styles are part of the event, including these bestsellers: the popular Seine denim, the Geneva dress (!!!!!!), soft Foundational layering pieces, the Kate Twill Jumpsuit, and the Everest Puffer coat.
When you're filling out the survey, you'll get to choose from the clothing categories: athleisure; lounge; bottoms; tops; dresses; classic style outfitting; workwear; premier outfitting; luxe outfitting; petites; "surprise me."
There's just one condition, and that's only due to how popular Mystery Boxes are: You can only buy three boxes per person. Happy Mystery Boxing!
This article was originally published on