Universal Standard's New 'Vote With US' Collection Supports Closing The Voter Gap
by Gina Vaynshteyn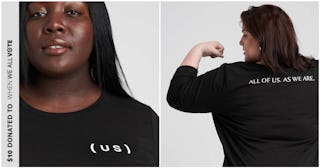 Universal Standard
Universal Standard, a clothing brand that puts inclusivity and representation first and foremost, has launched a very special capsule collection October 6, Vote With (Us). With Election Day upon us, you're probably reminding your friends and family to make sure they're registered to vote — and you can wear that reminder now, too. To encourage, motivate, and spread the word about voter registration and poll turn-out, Universal Standard launched some (super soft and super comfy) tops that simply read "(Us)" on the front and "All of us. As we are" on the back. Because we're all in this together, all of us.
November 3 is an especially important day, because this is the chance our country has to turn things around and fight for equality, representation, and fair leadership.
https://www.instagram.com/p/CGAkvBtFmoi/
"When we vote, we're voting for more than just our personal ideals, but for the people who need us to vote with them in mind — like the grandma who treats every neighbor like family, the OBGYN working on the front lines making new life possible, and the teachers working overtime just to keep classrooms running for our kids, youths who are the future and immigrant friends who can't vote," Universal Standard stated in their official press release.
Polina Veksler, CEO and Co-founder of Universal Standard, told Scary Mommy, "When I think back to why we founded Universal Standard, it wasn't just about the clothes. It was about the people that the clothes were being made for. Our purpose is to make sure that everyone is seen, included, and represented. Given the challenging time that we are all in, we know that a lot is at stake, and we want to do whatever we can to protect and support the interests of our collective community. We hope that our campaign will be a reminder that our vote has profound impact, and on a more personal note, as a mother, I hope that it inspires everyone to show up at the polls because we need to vote for a more inclusive future for our children."
https://www.instagram.com/p/CGAlGx2lkJU/
The Vote With (Us) collection is available in sizes (00 to 40), so everyone is empowered to wear their T-shirt, long-sleeved shirt, or sweatshirt loud 'n proud. $10 from each sale goes toward When We All Vote, which is a non-profit, nonpartisan organization that seeks to close the race and age voting gap.
Check out the goods below! And please vote — for yourself, and for those who cannot.