You Need A Vacation, And This Service Makes Sure You Get The Best Deal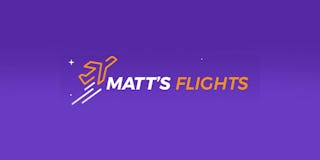 StackCommerce
It's time to dig out the family suitcases! As the world is slowly starting to open up again, now is the perfect time to start planning your next big vacation. And since it's been so long, just imagine how sweet that hotel bed will feel or how delicious that first sip of that strawberry daiquiri on the beach will taste. If you splurged your vacation budget on home upgrades after spending the last year at home, your dreams of a faraway destination don't have to be dashed. A 1-year subscription to Matt's Flights Premium Plan, a service that alerts you to cheap flights based on your departing airport, is available now for just $29.99.
Most people don't realize that airlines make mistakes, but Matt's Flights takes advantage of that by scouring the web for the best flight deals. Once they're found, he'll email the best deals to you so you can take advantage of their mishaps or super discounted sales and travel for just a fraction of the cost. Just supply him with your departing airport or location and you'll start receiving three or more deals a week and an unlimited number of custom search requests to fit your travel needs and get you on your way cheaper. You can also access personal 1-on-1 flight and travel planning support from Matt, himself, 24 hours a day, 7 days a week.
Matt's Flights has been featured on The New York Times, Thrillist, The Hustle and Kind Traveler, and has received countless testimonials raving about the service. Susie Walters-Richardson wrote, "Matt saved me $1,200 on the flight for my daughter's honeymoon." And Sharon Latkovich Valente shared, "We needed to fly to Honolulu from Miami. Searching for good priced flights if overwhelming. Matt found a great deal – round trip for two was $630! Do not hesitate – join Matt's Flights NOW!"
Get instant access to the best deals, and 5 times more than his free customers, with the Matt's Flights Premium Plan. A 1 year subscription is available now for $29.99.
Prices subject to change.
This article was originally published on