Vans Teamed Up With 'The Simpsons' For A Nearly 100-Piece Collection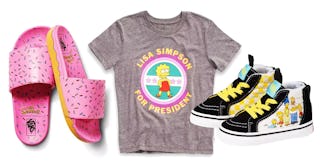 Vans
'The Simpsons' X Vans collection includes 91 items of pure nostalgia
Vans just teamed up with the iconic Fox series The Simpsons for a 91-piece collection of old-school Vans, hats, clothing, and accessories for the entire family. The collection boasts classic styles like Slip-On, Old Skool, and Chukka Pro, and includes classic high-tops for kids, printed shirts for dad, and D'ohnut slides for mom.
https://www.instagram.com/p/CDllo4zpmOh/
"Welcome to Springfield!" the brand says on its site. "Immerse yourself in the world of The Simpsons as Vans pays tribute to America's favorite family, with a collection featuring memorable moments from the series. This head-to-toe collection blends Vans premium footwear and apparel with characters of Springfield."
If you're still like, OK, but who is this collection for? The collection is for the 14-year-old skaters who binge-watched all the old episodes of The Simpsons and adult women who grew up on the show and think these Bouvier sisters' shoes ($75) are the cutest thing ever. I mean, just look at the texture on the hair!
Also, don't say you don't love these toddler-sized slip-ons?
Toddlers probably don't watch The Simpsons, but they definitely need these adorable Sk8-Hi Zip sneakers ($55) with the Simpsons family's portrait on the side. Also, The Simpsons is on Disney Plus now, so it's basically a family-friendly show (kind of, lol)!
You also need these "Lisa For President" shoes ($80) in your life.
In fact, there's a whole mini-collection of "Lisa For President" gear.
https://www.instagram.com/p/CDg3nZTpih4/
Oh, and the aforementioned D'ohnut slides ($50), of course.
These Maggie Simpson baby slip-ons are so adorable; I mean, this is baby-shoes-on-the-Christmas-tree quality right here.
There are nearly 100 items in the collection, including apparel and accessories.
Someone in your family wants a Simpsons family eyeballs" backpack ($48), right?
You can shop the rest of the collection here; or as Vans puts it, "Show your love for The Simpsons in classic Vans Style." Say no more.