What Our Spotted Readers Are Loving Now (Some Items Are Even On Sale!)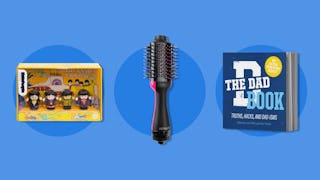 Here at Scary Mommy, we recommend products that make moms' (and dads'!) lives easier, healthier, and more fun. We love every product we pitch to our readers, but when we see that certain recommendations really hit the mark, we're super excited about it. Here are some recent "greatest hits" that our readers are going nuts for.
This amazing hot air brush gets the job done to salon standards in under ten minutes from dripping wet. It's described by one Scary Mommy staffer as an "invention from the gods who understand that no mom has more than ten minutes to do their hair."
22% OFF (was $59.99)
This unique vibrator uses orgasmic suction to simulate a sucking sensation, encircling your clitoris and targeting it for intense stimulation. Sound intense? You have no idea. Read about this woman's amazing Amazon review that we'd nominate for a Pulitzer if we could.
27% OFF (was $63.99)
Raise your hand if you're guilty of forgetting to clean your washing machine. (If you even knew that was something you were supposed to do??) These tablets are designed to penetrate, dissolve, and remove odor-causing residue that can occur in all washing machines. Used once a month, they help keep your machine (and hence, your clothes) cleaner and fresher. Says one fresh customer, "Sure, you can use vinegar, but the cost is about the same, and Affresh tabs smell a whole lot better, plus the box of tabs is way lighter, and stores in a much, much smaller space."
14% OFF (was $13.98)
If your little kiddos don't know (or care) who The Beatles are, it's your responsibility to introduce them to some of the most talented and enduring legends in rock n' roll history by whatever means necessary — up to and including as Fisher-Price toys. Says one fan, "The figures are just ridiculously, Beatle-y cute, the packaging is awesome, and my little guy (who is obsessed with Yellow Submarine) thinks they're the bee's knees. Well done, Fisher Price."
Brain boosters, or nootropics, are "natural or synthetic chemicals that are meant to enhance brain performance," according to expert Erica Armstrong, functional medicine MD, IFMCP, and founder of Root Functional Medicine. Over 3K Amazon reviewers swear by this one that includes St. John's Wort, Ginkgo Biloba, and other nootropics to help support mental performance, promote a positive mood, and boost energy.
CAMELBAK EDDY Kids Water Bottle
This spill-resistant water bottle is kid-sized, colorful, and keeps them hydrated. It's also easy to clean and uses materials 100% free of BPA, BPS, and BPF. (Basically, all the bad "BPs.") Says one happy mom, "We are def customers for life, especially due to Camelbak's lifetime warranty, which I have used twice for our adult bottles. Never an issue, super easy replacement…We use the bottle brush for our baby bottles, works great. Highly recommend."
25% OFF (was $13)
Throw these organic, reusable wool dryer balls in with your wet laundry instead of those toxic dryer sheets you're using to speed up drying time and soften your clothes. Literally amaze-balls. They're perfect for babies and sensitive-skinned adults. One reviewer on Amazon raved, "Amazing! We have cats and dogs and the hair never goes away. Not only no hair on clothes, but static free and smelling clean!"
40% OFF (was $24.95)
Try a tri-blend. This super-soft, comfy-fit tee is perfect for the dad who gets really sick of being referred to as "eye candy," but then gets over it pretty quickly. Says one sugar mamma, "How does The Dad trick my husband into wearing a shirt that proclaims "this catch is all mine"? By making the shirt out of the most amazing blend of fabric with a perfect fit, of course! It fits and washes well, and the fabric is soft, light and comfy."
This is unlike any parenting book you've ever read. It may not contain any useful parenting advice, but it's the perfect book for a dad who likes to laugh. Packed with popular jokes from The Dad and new never-before-seen content, but (almost) small enough to fit in your cargo shorts. Includes funny insights into life with kids, ill-advised parenting hacks, and classic dad phrases we call dad-isms. A must-have for everyone living life in The Dad Club, and as satisfying as the first mow of spring.
Believe it or not, MOST eye masks actually contain irritating ingredients and fragrances that are not going to help the super-sensitive skin around your eyes — in fact, they might make things worse. These are gentle and if you keep them in the fridge, they feel soothing and refreshing on a morning after one (or three) too many cocktails. Plus, they're cheap as hell.
Finding quality sheets at a good price point is super difficult — do you settle on softness or mortgage your house to pay for a high-thread count that feels as good as it looks? Consider these the unicorn you've been searching for. 42K+ positive reviewers on Amazon are getting the sleep of their lives on these brushed microfiber sheets that feel luxurious but are available for a fraction of what you'd expect.
Even if you had the time, inclination, or axe to chop down some real birch trees and make these candles yourself, we'd still recommend getting these instead. These LED candles are safe and convenient, and even come with a remote so you can get your glow on sitting on the couch across the room. Says one mom, "I love these candles! The moving 'flames' give a very realistic effect and I love that you can adjust how bright the lighting is. The outer birch design is beautiful. You get the same movement and light of a real candle, but in a much safer way. I have a 5 year old and a cat so these give me great peace of mind."
Rarely do we use the words "cute" and "Gene Simmons" in the same sentence, but describing this adorable Little People figure pack requires it. For the little rock 'n roller in your life, or maybe their KISS-obsessed grandparent. Says one tongue-wagger, "These are just freaking awesome! I wanna rock and roll all night and play with them everyday! "
These clear patches are made with natural ingredients to shrink pimples, soothe skin, and eliminate redness — sometimes overnight! That qualifies them as miracle-workers in our book. And 2K+ 5-star reviewers agree. Says one clear-faced convert, "I want to begin by saying I purchased these on my own with no discount compensation or incentive. These have been life changing for me. As opposed to other brands, this has been the only one that works in protecting and getting rid of pimples, and is absolutely the only one that is thin and transparent enough to wear in public or under makeup."
When they whine, you wine. Crush your wine in style with this "Mommy's Sippy Cup" gold foil stemless wine glass.
Our mom experts only recommend picks they really love. We may earn a commission on purchases made through links from our site, but if we love it, we know you'll love it. And we Scary Mommies gotta stick together.
This article was originally published on