I'll Have What She's Having: Jean Gordon
by Rachael Lubarsky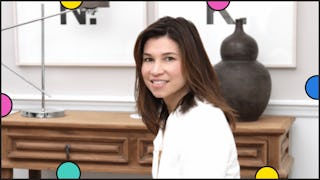 We pick the brains of some of the most talented, stylish, and busy moms we know to find out what they do (and buy) to make their lives work.
Part fashion stylist, part organizational guru, Jean Gordon knows how to streamline a closet to fill it with only things you love. Follow her on @jeangordon.style. We pinged Jean for her top 5 fashion must-haves and the best ways to keep 'em organized.
Edit Your Closet
1. Edit out barely-worn items taking up valuable space. Ask yourself "I were shopping now, would I buy this?"
2. Eliminate clutter – like those empty shoeboxes and shopping bags.
3. Arrange clothing by occasion (i.e. work vs. weekend wear) then by type, style and color. Keep items you wear most front and center.
Shop Jean's Must-Haves
"A plain white tee is beyond versatile. It can be styled in an infinite number of ways – it looks just as good with denim as it does with a pencil skirt."
"A great fitting black pant is a Monday-Sunday staple, and should be a mandatory part of any style arsenal. Dependable, classic, chic and always flattering. When in doubt, black pants."
"You can never go wrong with a great fitting pair of jeans. The ultimate wardrobe essential that is comfortable and always looks effortless."
"A well-constructed, lightweight jacket in a tailored silhouette (think trench, blazer, etc.) has enduring value and versatility. Wear it in spring, fall or in any in-between weather to elevate and finish your look."
"Using uniform, slim line hangers may seem like a small detail but it's the easiest way to instantly upgrade your closet. Everything will look clean and cohesive plus you'll gain a considerable amount of space."
"Hooks can help keep track of all those "wardrobe extras" that typically get shoved in the back of your closet or onto the floor. Add them to an inside door to hang handbags, scarves, hats, belts or clothing that's in heavy rotation."
(Closets hold more than just clothes!) "If I could make every fabric in my home and on my body linen, I would. I just got these fresh white sheets from @parachutehome and couldn't be more psyched. Quality sheets are the type of splurge that just keeps on giving."
Our mom experts only recommend picks they really love. We may earn a commission on purchases made through links from our site, but if we love it, we know you'll love it. And we Scary Mommies gotta stick together.
This article was originally published on