I'll Have What She's Having: Rachael Lubarsky
by Rachael Lubarsky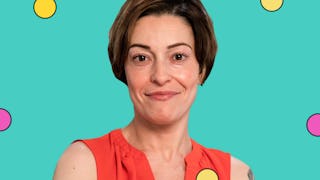 We pick the brains of some of the most talented, stylish, and busy moms we know to find out what they do (and buy) to make their lives work.
You'd think it would be difficult to refer to oneself in the third person, but as a copywriter for Scary Mommy, Rachael Lubarsky is used to challenging writing situations. She's a mom and step-mom to three boys (two of them teenagers), so she's also great at navigating her way through a house of testosterone (#onlygirlathome). She's a huge skincare buff and actually enjoys researching effective anti-aging ingredients in her spare time (no, really). She gave us product picks on everything from beauty secrets to keeping her kids entertained to successfully schlepping through her NYC commute.
BEAUTY
"I'm in a continuous state of cutting and then growing out my hair, but one constant remains – I don't have the patience or skill to spend more than 5 minutes on it in the morning. This cream really does the work of multiple products and doesn't feel sticky, greasy, or crunchy. I can just scrunch and go."
"For all the time I DON'T spend on my hair, I make up for it on my skin. I do a double cleanse at night with a fragrance-free, pH-balanced cleanser, and then swipe one of these towelettes over my face to get any last dregs of make-up or sunscreen off. It leaves my face hydrated and soft."
"I love everything about Drunk Elephant — from the quality ingredients to the oddly dangerous-sounding company name. I'm sensitive to chemical sunscreens, but it's hard to find physical ones that don't turn your face Bozo the Clown white. This one is chock full of good-for-your-skin stuff, but there IS a trick to getting it to layer right over other serums and creams without pilling up: don't use products with silicones under this and it will be smooth sailing."
"I've done some research on eye masks and MOST of them contain irritating ingredients and fragrances that are not going to help the super-sensitive skin around your eyes — in fact, they might make things worse. These are gentle and if you keep them in the fridge, they feel soothing and refreshing on a morning after one (or three) too many cocktails. Plus, they're cheap as hell."
$5.99 (FOR 30 SHEETS) AT AMAZON
"I'm a side sleeper, and I live in a constant state of paranoia that half my face is aging faster because every night I squoosh and contort it into a pillow. Sleeping on a silk pillowcase prevents those sleep lines from happening that make you look like someone snuck into your bedroom and tried to fold your cheek into itself during the night. This one is not super expensive and has more than 4K 5-star reviews on Amazon."
WELLNESS
"Collagen supplements are supposed to help improve your skin from the inside out. Does ingesting it help you create more of it in your skin? I don't know for sure, but if celebrities are doing it, I'm on board. If you're not a fan of mixing powder collagen into your coffee in the morning, try a tablet."
"Getting hangovers more easily after drinking less alcohol is another one of those amazing parts of getting older, kids. Taking a few of these after drinking before bed, really, actually works. You might not leap out of bed ready to take on an Olympic event, but you'll be able to handle your normal day without wanting to cringe in a dark, sound-proof closet."
COMMUTING
"I LOVE these canvas totes and have a couple in different colors. They are roomy, sturdy, and have that critical cross body strap that lets you flip 'em from front to back to squeeze into the most crowded of subway cars."
"I love my Airpods. But I hate when they fall down into the bottom of my purse and get covered in dust, lipstick, or chewing gum residue. This case gives them another layer of protection against the elements (of my purse) and it comes in lots of fun metallic colors to match your esthetic. Plus, it's super cheap!"
"If commuting in New York City has taught me anything, it's that comfortable shoes are a must, because you are walking your ass off every day. These sneakers have a retro vibe and make me feel cooler than I actually am."
"I bring along a couple of hard-boiled eggs to the office every day for breakfast. This egg cooker has changed my life. It's ridiculously easy to get perfectly hard boiled eggs with it."
KIDS
"I have boys aged 17, 14, and nine and we've been through all the recent iterations of Nintendo systems. They like this one because you can use it as a hand held or hook it up to the t.v. I like it because I get a few minutes to myself on a daily basis."
"The end-all, be-all dysfunctional coming of age book, in my opinion. I forced my 14-year-old to read this for his summer book project because as a parent, it's my job to foist my own nostalgia upon my unknowing children."
Our mom experts only recommend picks they really love. We may earn a commission on purchases made through links from our site, but if we love it, we know you'll love it. And we Scary Mommies gotta stick together.
This article was originally published on