Brighten Those Pearly Whites With This Convenient Whitening Pen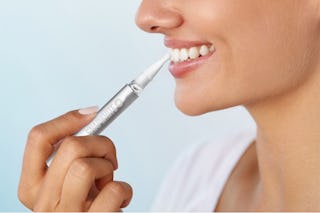 StackCommerce
How much coffee have you consumed during the pandemic? What about wine? For most moms, the limit probably doesn't exist. And, unfortunately, our teeth might be hiding the answer. Some of the things that have gotten us through this global pandemic are betraying us by staining our teeth in the process. And, since going to get our teeth whitened at the dentist is probably not super high on our busy to-do list, it might be time to look into ways to brighten your smile at home.
The Snapwhite Teeth Whitening Pen makes whitening your teeth easier than ever. In fact, it's so easy and convenient you don't even have to worry about penciling it into your schedule to do it. And, since it's currently 70% off and just $34.99 for a limited time, there's no reason not to brighten your smile before summer.
There are no pesky mouth trays required with this teeth whitening solution, just a super convenient pen that can even be used on the go. Just give a big smile, remove the cap and twist the handle until the gel appears on the brush, then apply the gel straight on your teeth. Once you're done, rinse with water, and repeat to get your pearly whites whiter with each application. Not only does it whiten better than its competitors, it also gives you a lot less sensitivity than them as well. The gel is made in the USA and is 100% cruelty-free, while offering you guaranteed results.
"This is like the best invention ever and I love Snapwhite because I cannot tell you how much whiter this has made my teeth. This is amazing," proud customer Katie gushed. Celebrity fashion designer Matt Sarafa also raved about Snapwhite, saying, "I love SnapWhite. I've used so many other brands but this is the one that gets my teeth the whitest with the least amount of sensitivity."
Ready to whiten your teeth at home? Get The Snapwhite Teeth Whitening Pen for just $34.99 for a limited time.
Prices subject to change.
This article was originally published on