The Revlon Hair Dryer Brush Is 100% Worth The Hype — And It's Only $41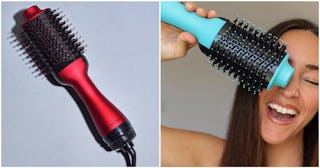 Instagram/Revlon
You may have heard of Revlon's hair dryer brush. This iconic styling tool has over 9,300 5-star reviews on Amazon, including one from Scary Mommy's head of studio. Behold the Mother of Brushes: The Revlon One-Step Hair Dryer & Volumizer Hot Air Brush changes lives, including that of Micaela Birmingham, star of the Scary Mommy original series "Momsplained." She recently 'splained how amazing the hot air brush is by describing it as an "invention from the gods who understand that no mom has more than ten minutes to do their hair." And best of all? It's only $41.
For Micaela's long, thick hair, the brush is like a magic wand that gets the job done to salon standards in under ten minutes from dripping wet. All you need to run your wet hair through the brush and watch this thing do its magic.
What makes it so amazing? The Hot Air Brush features:
Ionic technology which helps to maintain a neutral charge on the hair's surface and leaves it looking conditioned and smooth (yay, science!)
Innovative airflow vents for faster drying and better coverage
A tangle-free combination brush with boar technology to gently grip hair to smooth and create shine
You can get the Revlon hair brush dryer in this gorgeous red.
The brush is a bestseller with almost 8,000 customer reviews singing its praises. So hurry up, Mama, because it's hair today and gone tomorrow.
This article was originally published on