Get $55 Worth of Wine for $29.95 and Have It Delivered Right to Your Home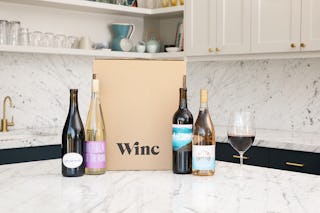 StackCommerce
Okay, so you might not be the kind of hardcore wino that carried a wine-dispensing backpack, but after the year we've had, moms everywhere deserve to partake in wine as desired. Unfortunately, wine habits can get expensive. And many wines tend to have a lot of sugar, which we all know isn't the best for our health. If you're a fan of wine, but would like yours without putting a dent in your wallet and using up your sugar allowance for the day, Winc can help. Right now, you can build your own box of wines that would typically set you back $55 for a crazy 45% discount and have them delivered to your door for just $29.95.
Save your sugar for your next chocolate craving! With this wine delivery service, four high-quality wines that are low on sugar will be dropped right at your doorstep for easy and guilt-free drinking. Winc knows the importance of great wine, but also understands how trying to pick wine can be complicated. That's why they have created and curated more than a hundred wines for you to peruse and pick from, taking out the guesswork. Then by delivering to your door, it saves you precious time in your day so you are one step closer to uncorking and chilling out.
Winc is beloved by critics, with Forbes noting, "the proof is in the bottle." The Huffington Post also raved about Winc, sharing, "Each bottle is labeled with unique art that you'll want to display, even after every drop is consumed." With good reviews like that, you can rest assured that you're not only going to love the taste, but the display as well. Once you snag this limited time deal, all you have to do is take the digital voucher code for the box of low-sugar wines, add them, check out, and sit back and relax knowing good wine is on the way.
Snag this deal in time for summer! Build your own box of wines for $29.95 for a limited time.
Prices subject to change.
This article was originally published on