Learn Practical, Real-World Skills To Help You Advance At Work With This Training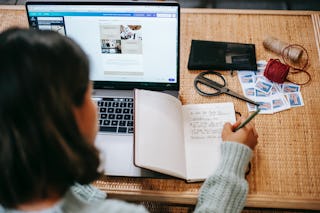 StackCommerce
Over the last year, we moms have been through a lot. Running a household during a pandemic is no joke, from keeping toilet paper and groceries stocked to managing online school and working remotely, and for many of us, our career goals have taken a backseat. If you'd like to do something for yourself and your future, but heading back to school isn't exactly in the cards right now, The Ultimate All-Access Business Bundle ft. Award-Winning Business School Professor can help. Let this bundle packed with 12 informative courses help you advance in the workplace without sacrificing thousands of dollars and hours. It gives you the Cliff's Notes version of an MBA degree for a tiny fraction of the price, at just $99.99.
Let an award-winning business school professor walk you through tips and tricks that will help you out in the business world. Chris Haroun, a former Goldman Sachs employee and top online business teacher with a 4.5- out of 5-star rating, provides over 150 hours of top-rated content in this bundle. Business Insider praised Haroun as "one of the highest-rated professors on Udemy, so you can expect to be in good hands through the course of your education."
Kick things off with Chris's top online business course, An Entire MBA in 1 Course: Award Winning Business School Professor, which takes you through topics you'd learn from a pricy business school education — from start-ups to IPOs to macro and microeconomics and taxes — all for under $100. And, unlike courses at universities, you'll be taught information that's based on real-life experiences and uses concrete examples that can help you in everyday life.
Another course, How to Manage by Delegating So You Can Achieve Your Goals, teaches you things that aren't always covered in business school, but that you'll certainly need in the real world. Chris teaches you how to delegate in an effective manner, showing you how to work smarter without working harder.
If you don't have the time or savings to invest in an MBA degree at the moment, The Ultimate All-Access Business Bundle ft. Award-Winning Business School Professor is the next best thing. Get it on sale for $99.99 for a limited time.
Prices subject to change.
This article was originally published on