We Finally Have Prime Day 2021 Dates, People — And The Big Days Are COMING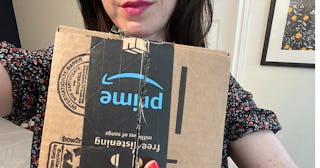 Scary Mommy/Gina Vaynshteyn
If you've been living under a rock for the past 5 years (or maybe in a cave without high-speed internet), you might not know that Amazon Prime Day is the annual behemoth-sized site-wide sale across Amazon. Think of it as the summer's Black Friday.
This year, you can think of it as Black Monday AND Tuesday, because Prime Day will actually last for 2 DAYS (starting Monday, June 21 and running through Tuesday, June 22). The company will be running over 1 million deals worldwide, many of them lightning deals happening throughout the day — announced last minute and only available for a few hours. Deal FOMO alert!
Here's the catch: all of this is exclusive to Prime members only, so now's the time to bite the bullet and join. (You KNOW you've thought about it.) Commitment-phobes can sign up for a 30-day trial membership.
Then, get ready to ride the Prime Day rollercoaster with us on Monday and Tuesday. Follow us on Facebook and stay glued to your inbox as we bring you all the deals you'll want to score.
Keep clicking refresh here also, because we'll be updating it with the best deals throughout the day on Monday and Tuesday. Don't miss a thing!
Editor's note: The deals below are not updated yet for Prime Day 2021, but stay tuned — and bookmark this page — for the very (early) best deals on June 21-22!
Shop These Early Prime Day Deals Now!
Instant Pot Duo60 6 Qt 7-in-1
Don't be the last person on earth without one of these. This cooker does the work of 7 different kitchen appliances. Talk about freakin' multitasking.
Was $99.99 (40% off)
Echo Dot Smart Speaker With Alexa
Meet your home's new BFF. Echo Dot has a new speaker, sleeker design, and lets you control compatible smart devices in your house with the sound of your voice. It's nice having another adult to talk to – even if it's Alexa.
Was $49.99 (50% off)
Lodge 3 Quart Cast Iron Combo Cooker
If you think cooking in cast iron pots only happens in medieval children's story, you should reconsider. Versatile, durable, and unparalleled in heat retention, this set cooks almost anything you can think of evenly and thoroughly.
Was $62 (52% off)
Boscia Exfoliating Peel Gel
From clean, plant-driven brand Boscia, this peel is unlike anything you've ever tried. Says one reviewer: "This product is life changing! After just one use my skin feels so soft, clean, and refreshed!" We'll have what she's having.
Was $34 (30% off)
This article was originally published on