From A Toddler Mom: I Save SO Much Time With These Kid-Friendly Meals
by Karen Tietjen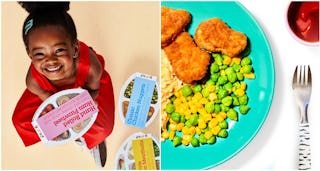 Yumble
Have you ever seen videos of crafty moms fixing their kids' lunches with cookie cutters and making cute letters and shapes and thought, "LOL, yeah right!"? Well, nothing against those crafty moms (seriously, good for them), but the rest of us find ourselves struggling to put some semblance of a well-balanced meal on the table — and one that our kids will actually eat. (Or maybe that's the magic of making cookie-cutter sandwiches?)
As a busy working toddler mom, my primary concern is making sure my kiddo gets the proper nutrition to grow and develop. But a secondary, albeit, less significant concern, is the desire to raise an adventurous eater who enjoys eating new and different foods. But meal planning takes so much time, and on hectic weekdays, feeding my family a nutritious meal can feel downright impossible. That's why — amidst dozens of subscription meal services for adults on the market — I was thrilled to discover Yumble, a subscription meal service that's just for kids.
Yumble offers an extensive rotating menu of nutritious, well-rounded meals that are ready to eat in two minutes or less (some just need to be warmed in the microwave, others can be enjoyed right from the fridge!). These toddler- and kid-friendly recipes are loaded with whole grains, veggies, fruits, and healthy proteins, not to mention, tons of delicious flavor.
I love that Yumble's plates aren't just for dinner — their menu also includes breakfast-appropriate and on-the-go foods. So on those extra busy mornings when my son goes to daycare, we can make sure he starts his day with a wholesome meal like the Bacon Scramble Breakfast Bowl. And parents of older kids, listen up: No-heat options like the Chicken N' Cheddar Sandwich Meal can be tossed in a lunch box with an ice pack for the easiest packed lunch ever (no sandwich cooking cutting required).
Although Yumble meals are designed for kids, they're still tasty enough to please grown-up palettes (trust me, I've been known to sneak one in a pinch). Dishes like the Vegetarian Bean Burrito and the Sweet Sticky Rice & Chicken dish are easy to eat but complex enough to intrigue tiny tastebuds. This teaches young eaters that trying new foods is yummy — and fun!
Another plus for moms and dads is that the meal plans are super flexible. Order 4, 6, 8, or 16 meals per week, then pick and choose the menu items your kid will love. You can also snooze a week to skip your delivery, and of course, you can cancel anytime (but you won't want to).
Meal planning is hard, but meal planning for kids? That's an entirely different challenge. With Yumble, I know my son is getting balanced, healthy meals … and that's one thing I can take off my proverbial plate.
This article was originally published on