10 Gifts For The Spouse Who Is Impossible To Shop For
by Team Scary Mommy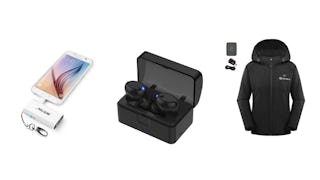 Walmart
Even if you are the best gift giver around, some people (like your spouse) are seriously hard to shop for. Well, fear not, because we've compiled a list of killer gifts that will make your job a little easier.
Everyone needs to write notes, and this awesome tablet lets you do so without killing trees.
So they can listen to music in the shower, the bathtub, the pool, while grilling, while playing catch –basically anywhere.
Because everyone likes to be warm and cozy.
Everyone loses their keys. You could probably put this on your kid too. Just sayin'.
Soft-serve ice cream any time they want it! Please send one to our house too. Thanks.
It's like a George Foreman grill, but for eggs. Who doesn't want that?
It's a travel pillow that turns into an iPad holder. What kind of amazing wizardry is this?
GENIUS. Just genius.
Let's be honest, we all want these. Especially on those days when the kids are screaming extra loud.
IT HAS ITS OWN HEATER, PEOPLE.
So, yeah, your spouse may be impossible to buy for, but these gifts are guaranteed to make them smile.
We are a participant in the Walmart.com Affiliate Program and may earn fees by linking to Walmart.com and affiliated sites.
This article was originally published on