Spring Break Family Fun: The Best Mazes in the Country
by Alison Gwinn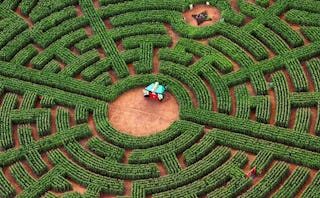 Try an outside maze. The clever folks at Outside magazine online have come up with five of the best in the country, from an eight-acre farm maze in central Massachusetts (it even has its own zipline) to a hand-cut, 60-acre corn maze in Dixon, Calif. Check out their picks below.
1. The Davis Mega Maze in Sterling, Mass.
2. The Dole Plantation Pineapple Maze in Wahiawa, Hawaii
3. An enormous, hand-cut corn maze in Dixon, Calif.
4. The Cherry Crest Farm Maize Maze in Ronks, Pa.
5. The Great Vermont Corn Maze in Danville, Vt.
And for all you fans of Stephen King's The Shining (in which Jack Torrance stalks his son through a big maze), you'll be glad to know that the Stanley Hotel in Estes Park, Colo., the book's inspiration, is planning to build its first maze by this May, just in time for the hotel's horror movie film festival.
This article was originally published on