11 Items To Add To Your Closet Now That It's Officially Spring
by Team Scary Mommy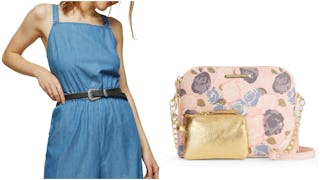 Image via Walmart/Amazon
Spring is here and your wardrobe deserves a little revamping
Winter is finally, finally over so that means that you can say goodbye to big coats, heavy boots, and multiple layers. You can officially say hello to breezy tops, lightweight jackets, and all the cute shoes. Prepare yourself for a whole bunch of drool-worthy spring fashion items.
It's not quite tank top weather yet but you can definitely throw on a comfy, stylish Levi's jean shirt over a tank top and you're all set to go.
Ditch your winter boots for some cute slip-ons. They'll work with casual jeans and a t-shirt or a springtime dress. Also, helloooo comfort.
Need a relaxed pair of jeans for a low-key day? Go with these. They have a medium rise, a flattering faded wash, and a slightly distressed look (because you're not a regular mom, you're a cool mom).
In desperate need of a pretty dress you can wear that's still considered work appropriate? Go with this wrap dress. It comes in a bunch of different colors and delivers a whole lot of warm weather fierceness.
Or go casual with this soft, flow-y number. You'll feel very cute even if you're cranky and running around frantically all day long.
Not feeling like putting on jeans in the morning? Throw on this pair of lightweight cargo pants and you're good to go.
You've ditched your jacket but you're not fully warm enough to wander outside in just a t-shirt. Snag with this warm pullover with peek-a-boo shoulders and go get your sunshine on.
Bring some of that springtime joy to your feet. These adorable Superga sneakers feature bright pink flowers and will put you in all kinds of a good mood.
Bring even more floral gorgeousness into your life with this pretty pink crossbody purse.
Oh hello gorgeous. You'll be the epitome of sunshine in this bright, comfy jumpsuit.
This jumpsuit is warm weather perfection. It's breezy, it's comfy, and it's got that whole cool jean look down pat.
Happy springtime, everybody! Here's to lots of bright, comfy, breezy fashion statements.
We may earn fees from purchases made via links on this page and affiliated sites. All opinions are our own.
This article was originally published on