Ellen Has A New Spring Line And You're Going To Love It
by Team Scary Mommy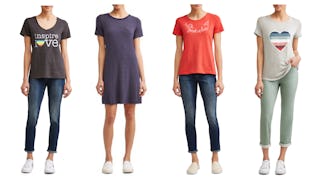 Images via Walmart
The EV1 clothing line from Ellen DeGeneres is back for spring!
And in true Ellen fashion, the spring collection is inspired by love and inclusivity. It's called EV1 because it's for everyone. These comfortable, versatile styles come in sizes 0 through 20, ranging from XS to XXXL.
With fun graphic tees, jackets, jeans, sneakers, and athleisure wear — all at affordable prices — you're sure to find something you'll love. Here are some of our favorites:
This Inspire Love Tee will have you dancing with its great message and flattering cut, all for only $10.00.
The Good Vibes Tee comes in a pretty coral color and will add some perfect color and vibes to your spring wardrobe. (Also $10!)
This Love Graphic Tee comes in an adorable heart design and will have you feeling all the love. (Also $10!)
The Ombre Heart Tee has a cute, colorful design that is sure to match the rest of your spring clothing. (You guessed it: $10!)
This Striped T-Shirt Dress is a fantastic fit for spring, that you can add layers to as needed.
A crewneck Grey and Indigo Floral Sweatshirt brings a splash of spring to those still-crisp mornings and evenings.
This Women's Denim Jacket is a sleek, classic look with a love heart design on the back.
What's not to love about a Love Zip-Up Hoodie? They're as cute as they are comfortable, and this thyme green is everything. (But it's also available in light grey and dark grey.)
These Jogger Sweatpants are the perfect match for your hoodie for lounging around the house, I MEAN, ummm, for jogging.
We love these stretchy, denim Maddy Jeans, which have the signature love heart logo embroidered on the back pocket.
These Green Maddy Jeans are absolutely perfect for spring. (They're also available in a peach color called evening sand.)
These Stretch Velvet Jeggings are fun, comfortable, and are currently on sale for $6.00! (Originally $26.00.)
A pair of cute Lace-Up Trainers is a great investment for this time of year when you'll be spending a lot more time outdoors.
Or if you prefer some comfy slip-ons, these Slip-On Canvas Sneakers are the perfect fit and go with any pair of jeans.
This Grey and Indigo Floral Sports Bra brings a fun splash of color to your workout. (And it's only $10!)
These Grey and Indigo Floral Leggings are a good fit for working out, or hanging out in while you pretend you're going to work out.
This Blue Striped Sports Bra is a great addition to any dance routine or workout.
The matching Blue Striped Leggings are great for being active, or just hanging out in your activewear.
We are loving these sporty styles, layers, and prints that really pop, and we hope you like them as much as we do, because we're basically obsessed.
We are a participant in the Walmart.com Affiliate Program and may earn fees by linking to Walmart.com and affiliated sites.
This article was originally published on