'Squid Game' Costumes Are Being Banned At Some Elementary Schools
by Christina Marfice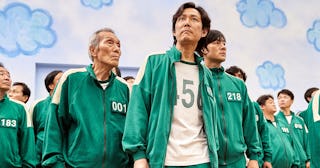 Noh Juhan/Netflix
Squid Game is the most-watched original series ever to air on Netflix — but there's still a huge debate over whether kids should be allowed to be fans
Squid Game is breaking viewership records over at Netflix, where it's now the streaming giant's most popular original series of all time (sorry, Bridgerton). But as the violent, dystopian show takes over the internet (and maybe the world?) there's still a big question: Is it OK for kids to watch, and even if not, can they still participate in the Squid Game culture that's everywhere right now?
In one school district in upstate New York, those questions are front-and-center for administration officials as Halloween approaches. After noticing that some elementary school kids were mimicking the deadly games from the show during recess, officials decided to institute a unique rule: No Squid Game costumes allowed in classrooms for Halloween celebrations.
Principals from Mott Road, Enders Road and Fayetteville elementary schools announced the policy in an email to parents, which also informed them of the games kids were playing at recess.
"Because of this activity, our principals wanted to make sure our families are aware that it would be inappropriate for any student to wear to school a Halloween costume from this show because of the potential violent messages aligned with the costume," Fayetteville-Manlius School District Superintendent Craig Tice said in a statement. "They also wanted families to be aware that some of our younger students are talking about and mimicking aspects of the show/game at school so parents and guardians would have the opportunity to speak with their children themselves about it and reinforce the school message that games associated with violent behavior are not appropriate for recess."
Tice said the Squid Game policy isn't really all that different from the rules the school institutes every Halloween: No items that can be interpreted as weapons, no scary or gory costumes, and nothing that glorifies violence. There may be some debate about whether a costume from Squid Game glorifies violence directly, but there's certainly no question that the show is gory, inappropriate for young kids, and absolutely violent.
But that doesn't make the costume debate an easy one. Another New York district, White Plains Public Schools, decided not to prohibit Squid Game costumes.
"Many of the time-honored costumes that children choose often have historical (or) popular culture connections that transcend the holiday," Superintendent Joseph Ricca told reporters. "We often think of pirates as a fairly common Halloween costumes — typically no concern there. However, historically and today, pirates are criminal outlaws — a role we certainly do not want our children aspiring to."
Ricca continued, "I understand and respect that all communities are different and, as such, some may choose to limit the types (and) styles of costumes children can wear. In the White Plains City School District we do not allow over-the-head masks, overly gory, patently offensive or inappropriate costumes. These guidelines have served us well and keep our children safe as they celebrate the spirit of the holiday."