High School Students Organize Vigil To Honor Pittsburgh Shooting Victims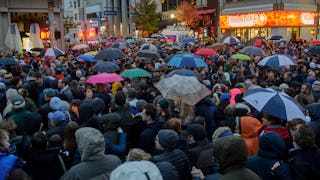 Image via Jeff Swensen/Getty Images
A group of students helped the people of Pittsburgh come together in shared grief
More than a thousand people gathered to mourn the victims of a mass shooting in Pittsburgh last night. The vigil was organized by local high school students to honor the 11 innocent people who were senselessly murdered in an act of unfathomable hatred.
Students from Taylor Allderdice High School arranged the vigil hours after the shooting. People of all faiths, ages, and backgrounds came together to show their support for the Jewish community by singing songs, giving speeches, and praying.
Ben Mayer, a Squirrel Hill resident whose family attends the Tree of Life synagogue where the shooting occurred, shared a Facebook photo of the vigil that quickly went viral. "When you think about the events of today and Pittsburgh and its lovely and peaceful Jewish community, do me a favor and don't remember the shooting," he writes. "That only serves to memorialize the hate of one coward."
Instead, Mayer urges people all over the country to focus on the togetherness of the Pittsburgh community.
"This is a vigil arranged by high school kids on the spur of the moment, supported by law enforcement, and attended by hundreds and hundreds of members of my community," he writes. "Christians, Jews, Muslims, Buddhists, Hindus, Atheists. People standing in the rain. People offering their neighbors comfort and support."
I have lived in Pittsburgh every day of my 33 years of life. I didn't even venture "out" for college — I attended a university right in the heart of the city. This isn't the first mass shooting I've written about, and unfortunately, it won't be the last. Each time a tragedy like this unfolds, I feel the weight of grief deep in my chest as I search through heartwrenching images and comb through bleak information. But this one hits home in a way even a writer can't explain. Just twenty-five minutes from my house, in a city that has shaped who I am, in a neighborhood where I've enjoyed meals and walks and laughs, where Mister Rogers was everyone's literal neighbor — 11 families are experiencing the worst days of their lives.
Seeing my hometown splashed across national headlines because we are now the city where the deadliest anti-Semitic hate crime has occurred is devastating. To describe it as 'overwhelming' is an understatement. But when I see images like these from the vigil, where an entire community comes together to lean on one another in our shared grief, I see my city and the good, peaceful people who live here.
One hateful man, no doubt emboldened by a presidential administration and polarizing social climate that refuses to condemn Nazis and the domestic, white terrorism they perpetuate, does not get to define the city of Pittsburgh.
Emily Pressman, a senior at Taylor Allderdice High School, says she wasn't expecting so many people to "listen to students" and turn up for the vigil. "Seeing everyone here is just really heartwarming," she says. "This is just for the community to get together and be together. It's for everyone, but it's really just to warm our souls."
This article was originally published on