Dear Daughter: We Fought For Your Life, And This Is What We Want You To Know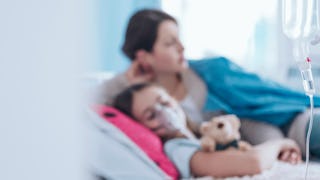 KatarzynaBialasiewicz / Getty
"Dear sweet, brave daughter…Cancer struck and it hit hard."
"…Sweet girl, you've taught me to take things day by day, to just slow it down, and to enjoy the small things in life. Trivial things that once weighted us down aren't near as important anymore. My priorities have changed, no doubt."
For some of us, Mother's Day is a time for a haphazard homemade breakfast in bed delivered proudly by the kiddos, or a bouquet of flowers handpicked from the neighbor's yard. This day is special in different ways for each mom being celebrated. And at St. Jude Children's Research Hospital, Mother's Day is particularly meaningful for moms who are fighting alongside their children battling cancer or other life-threatening diseases.
Moms like Ginny and her 10-year-old daughter Rylee.
Rylee loved competing in gymnastics, especially the uneven bars. In 2016, she started to experience pain in her left leg and eventually developed a limp. When an MRI revealed a mass on Rylee's femur, her family turned to St. Jude Children's Research Hospital®, where doctors determined she had a type of bone cancer called osteosarcoma. Rylee's treatment included chemotherapy and a limb-sparing surgery, during which a portion of her femur was replaced with a titanium rod to be adjusted as she grows. Rylee, now 10, visits St. Jude for regular checkups and has discovered her artistic side.
With Mother's Day right around the corner, Ginny wrote Rylee a letter expressing her love and hope for her future.
A Letter from Ginny to her daughter Rylee
Dear sweet, brave daughter,
Wow. What a crazy ride we've been on the past year and a half. Cancer struck and it hit hard. You are in the fight for your life, however, you are handling it all beautifully. And, because of you, I have realized I am much stronger than I ever knew.
Sweet girl, you've taught me to take things day by day, to just slow it down, and to enjoy the small things in life. Trivial things that once weighted us down aren't near as important anymore. My priorities have changed, no doubt.
My hope for you is that you never loose your sweet, spunky, and often hard to keep up with spirit. Your resiliency is simply incredible. Those characteristics have already carried you so far in your short ten years. I have seen so many people be moved by you. You have inspired far many than you realize. I pray you continue to bless all that cross your path.
Rylee girl, I am honored to be your mother. You are loved beyond measure. I never thought we would be in a situation like this, but here we are making the most out of it. We are changed forever, but changed for the good. You are amazing. You are my hero. Remember that.
Love,
Mom
St. Jude is leading the way the world understands, treats and defeats childhood cancer and other life-threatening diseases. Treatments invented at St. Jude have helped push the overall childhood cancer survival rate from 20 percent to 80 percent since the hospital opened more than 50 years ago. St. Jude won't stop until no child dies from cancer.
St. Jude families, like Ginny and Rylee, depend on yours. Families never receive a bill from St. Jude for treatment, travel, housing or food – because all a family should worry about is helping their child live.
Your help means a family can focus on what matters most: their child.
Support St. Jude families this Mother's Day. Visit stjude.org/family, to learn how.
This article was originally published on