Stacey Abrams Nominated For The Nobel Peace Prize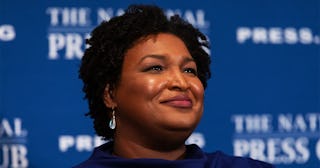 Cheriss May/NurPhoto/Getty
The voting rights activist has been nominated for the prestigious prize, according to a Norweigan lawmaker
Stacey Abrams, former Georgia gubernatorial candidate and general badass, has been nominated for the Nobel Peace Prize. Abrams was nominated for her role in championing voting rights and for promoting nonviolent change.
In the 2020 election cycle, Abrams and her grassroots organization were an important part of turning Georgia from red to blue. Twice. Once during the general election, in November, then again during a pivotal Senate runoff in January. The nation watched as Georgia voters cast their ballots, and two Democrats won seats in the Senate, turning the legislative chamber blue.
Kerry Washington posted a Stacey Abrams meme celebrating the wins.
Abrams started Fair Fight after a slim defeat in the state's 2018 gubernatorial race to Republican now-Gov. Brian Kemp.
Kemp, then acting as Georgia's secretary of state in 2017, organized what analysts described as the biggest voter purge in U.S. history — an operation that disproportionately impacted the state's Black citizens. Fair Fight went on to sue the office of the Secretary of State on behalf of Georgia citizens for voter suppression. The case is still ongoing.
Abrams is 'widely expected' to announce a second campaign for Georgia governor, The Hill reports. If elected, Abrams will be the first Black female governor of the state.
The Stacey Abrams fan club took to Twitter to celebrate her nomination.
Reuters reports that Lars Haltbrekken, a Socialist Party member of Norway's parliament, gave a media statement about Abrams' civil rights work. "Abrams' work follows in Dr. Martin Luther King Jr.'s footsteps in the fight for equality before the law and for civil rights," Haltbrekken said.
"Abrams' efforts to complete King's work are crucial if the United States of America shall succeed in its effort to create fraternity between all its peoples and a peaceful and just society," Haltbrekken said.
It's worth noting that former members of parliaments and former winners are eligible to offer names for nomination. What's more, the nomination does not necessarily mean a nod from the Nobel committee in Oslo.
According to Reuters, other candidates for the 2021 Nobel Peace Prize include the Black Lives Matter Movement, World Health Organization, the Vietnam War "Pentagon Papers" whistleblower Daniel Ellsberg, climate change wunderkind Greta Thunberg, and Russian dissenter Alexei Navalny.
The committee decides who will receive the award, but the body does not comment on nominations.
Former winners include Presidents Jimmy Carter and Barack Obama, as well as former vice president, Al Gore.
Earlier this year a campaign to nominate former President Trump failed to get any traction. It remains to be seen if someone will nominate him, or if he will try to find a way to nominate himself.
Winners of the Nobel prizes will be announced in October.