Why Stacey Abrams Gives Me So Much Hope
by Nikkya Hargrove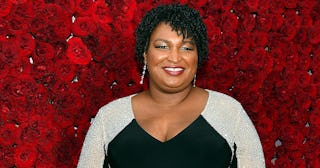 Paras Griffin/Getty
We never quite know what Georgia will do next, but as of late, the people of Georgia are surprising us day after day. A little over four weeks after the presidential elections, in the state of Georgia, 16 votes decided (or confirmed, depending on what you believe) who won the presidential election on November 3rd.
Millions of us already knew, but millions also believed President Donald Trump's baseless assertion that there was voter fraud within the election against President-elect Joe Biden. Many were holding their breath, waiting for recounts, supreme court rulings, and a decision by the electoral college before they just might believe that President Donald Trump did not, in fact, win the election. And who better to deliver the final nail in the coffin of despair for all of the Trump voters than Stacey Abrams, a former gubernatorial candidate in 2018, who lost to Trump-endorsed Governor Kemp during the contentious 2018 elections. On December 14th, it was Stacey Abrams who read aloud the 16 Electoral College votes for Joe Biden, deeming this election cycle a wrap.
It matters because it was this woman, the woman who ran a strong campaign to be the governor of Georgia, a Black woman who refused to be silenced. Stacey Abrams has the grit that so many of us aspire to. She refused to back down from what she knew to be true in 2018 and what she knew to be true in 2020: that democracy will win. In 2018, Governor Kemp boasted that he used his pickup truck to "round up criminal illegals," he told the Associated Press — but we knew who Kemp was even before this disgusting statement. He was the same man who tried to suppress the Black votes in Georgia when he feared he would lose to a Black woman. He was the same man who held the position of Georgia's Secretary of State and was therefore in charge of running state elections. It was under his watch that over 1.4 million inactive voters had their registrations canceled. Governor Kemp's actions were next-level dirty, and I suspect, shrouded in the fear of what would happen to the Peach State if a Black woman were to take the lead.
After losing to Kemp by a mere 55,000 votes, Stacey Abrams founded the Fair Fight initiative, which confronts the problem of voter suppression — and has, since 2018, registered approximately 800,000 new voters. But most importantly, nearly half of those are people of color.
Then 2020 came and ended with the reality that President Trump lost the election he was sure he'd win. With vice-president-elect Kamala Harris joining Biden's ticket, their vote into the White House has shown us so much about the strength of our democracy. In her acceptance speech, Senator Harris gave a nod to "the Black women who are too often overlooked, but so often prove that they are the backbone of our democracy."
This "overlook" is what happened to Stacey Abrams by Republicans, voters, and President Trump. But when it came time to continue to carve out her place in history, Stacey Abrams stepped up to the challenge in December to read the 16 votes of the Electoral College in Georgia. The very system of the Electoral College was created by the Founding Fathers over 200 years ago, when Black people had no rights, and no chance to speak or stand where Stacey Abrams stood when she called out the 16 votes.
My bright light of hope began to dim earlier this year with the murder of George Floyd, the lack of justice for Breonna Taylor, and the mourning I felt for the friends I've lost who just don't understand the Black Lives Matter movement. But Stacey Abrams' determination, drive, and unwavering love of country gives me hope somewhere deep down in my soul.
The more I learn about Stacey Abrams, her organization Fair Fight, and her new book, Our Time Is Now, the more I am reminded of the fact that we are not alone. Black women have and must continue to use our voice; even in front of a very white world, it matters. It always has and always will — mine included.
This article was originally published on