Teacher Placed On Leave For Mentioning She Had A Wife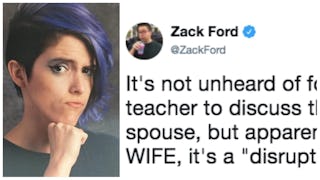 Image via Twitter/Zack Ford/Elvia Limon
A Texas school district is under fire for censoring a teacher's LGBTQ discussions and placing her on leave
An art teacher at a Texas elementary school was suspended last fall — for discussing her wife with her students, according to the school district. Prior to being placed on leave, Stacy Bailey — who is married to a woman — asked the district to establish protections for LGBTQ students and employees in the school's anti-discrimination policy.
If you're thinking things aren't exactly adding up the way they should here, you're not alone.
While several parents are fighting to have Bailey reinstated at Charlotte Anderson Elementary School, it was the complaint of a parent that initiated the school to investigate Bailey's classroom discussions in the first place. The school's principal assured the parent they would look into the matter and decide on "appropriate administrative action."
Discussing inappropriate or sexual topics with elementary school students is a completely different thing than mentioning your sexual orientation — let's get that clear. Plenty of heterosexual teachers probably mention their husbands and wives all the damn time. Because that is a normal, conversational thing — and it's probably safe to assume most elementary-aged children know what a spouse is. Since when is being part of the LGBTQ community considered "adult" or inappropriately explicit? Gimme a break. She has a fucking wife. There are gay people in the world. What's the big secret?
The school district defended its decision to place Bailey on leave after receiving more than one complaint about her topics of discussion. "The District's concern is that Ms. Bailey insists that it is her right and that it is age appropriate for her to have an ongoing discussion with elementary-aged students about her own sexual orientation, the sexual orientation of artists, and their relationships with other gay artists," the district said in a statement.
Jason Smith, the attorney representing Stacy Bailey says his client was just mentioning her spouse, who happens to be a woman. "It's sad that Mansfield ISD issued a statement with multiple falsehoods to try and deflect the increasing parent pressure to bring back Miss Bailey," he said.
Plenty of parents are rushing to Bailey's defense, saying she cares deeply for their children and inspires them with her love of art. "She has gone above and beyond. We are just heartbroken right now," says Florence Bruner, a mom with a fourth-grade daughter in the district. "We are speaking up for her because she has no voice."
The case is now gaining national attention, with many people defending Bailey.
Following the suspension, parents and fellow teachers in the Mansfield school district are calling for the anti-discrimination protections to be put in place — the very same protections Bailey was attempting to have implemented before her suspension.
While we can't know for certain what was or wasn't discussed between Bailey and her students, it seems unlikely she'd have so much parental support within the district if there was truly cause for concern over her subject matter. Parents and district officials shouldn't reserve the right to punish teachers for simply being who they are.
Julie Vazquez, Bailey's wife, told The Dallas Morning News she was thankful for everyone who had come to the recent school board meeting to support her wife. "It is so appreciated, and it shows how the family Charlotte Anderson Elementary is," Vazquez said. "They support each other, they love each other and are there for each other."
This article was originally published on