Stanley Tucci Knows He's Our Pandemic Internet Boyfriend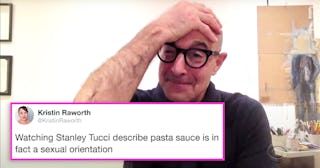 The Late Late Show with James Corden/YouTube
Yep, the Tucc sees your thirst tweets — and he loves it
Look, if you don't have an unhealthy obsession with Stanley Tucci, we don't know you. OK, no, but seriously, how? Pre-pandemic, we marveled at The Tucc's on-screen range, from his now-iconic lines in The Devil Wears Prada as Runway art director Nigel ("Alright everyone, gird your loins!") to his scene-stealing performance as the vibrant, boisterous Caesar Flickerman in the hit Hunger Games series. And amid the pandemic, our love for the acclaimed actor only continued to reach new heights (much to our own surprise) when he took to Instagram to, in the most sensual, sexiest way possible (thanks, in part, to his voice, and thanks, in even larger part, to that fitted black polo) teach viewers how to make a Negroni. And, as it turns out, Tucci is well aware of our current thirst level for him.
During a recent episode of The Late Late Show, host James Corden read a handful of thirst tweets dedicated to Tucci, and Tucci's response was grade-A classy.
"Is Stanley Tucci aware of the effect that Stanley Tucci has on people online?" Corden asked Tucci. "Because, people are hot for the Tucc."
Corden then rattled off a few thirsty tweets, like, "I think Stanley Tucci is so sexy, can't exactly explain it, but I want him to crumple me like tinfoil." (Yep, we get it.) And, "I'm sorry, but who gave Stanley Tucci permission to be such a hot bitch!" (Right?) And finally, "Watching Stanley Tucci describe pasta sauce is, in fact, a sexual orientation." (Amen.)
We'll get into what the last tweeter is talking about in a second; but first, Tucci's response:
"Well, at age 60, I feel wonderful about it," he said with a laugh. "I'm thrilled. I'm thrilled. I'm flattered. I'm really glad. I hope it lasts. As I become more and more wizened, I hope that people feel the same way about me."
The appearance on The Late Late Show follows the premiere of Tucci's new show on CNN, Searching for Italy.
As part of the six-episode show, Academy Award nominee Tucci travels across Italy to, as CNN's press release puts it, "discover the secrets and delights of the country's regional cuisines." Viewers follow along as he enjoys everything from the luxurious creamy carbonara of Rome to saffron-infused risotto in Milan.
"During a time when everyone wishes they could travel, the series will transport you through Italy's cultural past and present through its extraordinary cuisine," Tucci says in the release. "The food tells the story of this country's unique history and I'm thrilled to serve as a guide through this journey."
Since its premiere, Searching for Italy has been a hit, amassing millions of viewers. In fact, last Sunday's episode, alone, drew a staggering 1.64 million viewers — particularly viewers between the ages of 25 and 54. And, yep, that tracks.
So, it makes perfect sense that CNN would renew the show for a Season 2, which is slated to air sometime next year, Deadline reports.
Tucc, have we mentioned we love you? Oh, we have? Well, we'll say it again: We love you.