Sweet 'Star Wars' Ad Goes Viral For Showing How Much Inclusion Matters
by Christina Marfice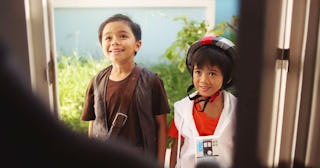 globeph/Youtube
You have to watch this Star Wars ad all the way to the end if you want to see what it's really about
Maybe it's just that the holiday season has us all in our feelings, or maybe it's that this ad is actually that heartwarming. Regardless of the reason, a Star Wars-themed ad from Filipino phone company Globe Telecom is causing Grinches and Scrooges all over the world to reach for a box of tissues.
Warning: Before you hit play, you might want to have your own box of tissues within arm's reach.
The ad follows two young boys in the Philippines who are clearly on a mission. They run around their neighborhood, knocking on doors, asking their neighbors for help as they collect cardboard, scrap metal, old tires, and tons of cell phones. Eventually, we see their living room, where it looks like they're building some kind of space ship. Clearly they've got the Star Wars fever so many people have lately, with The Rise of Skywalker hitting theaters so soon.
Except their disappointed faces tell us the ship, constructed out of all that junk they collected and a living room chair, isn't quite up to their standards yet. So back out into the neighborhood they go to collect more supplies.
When the big reveal finally comes, they have another friend in tow — a little girl, whose eyes go wide when they lead her into the living room to show her their finished space ship. And that's when the twist ending comes (watch the video before you read this part if you want to avoid the big spoiler).
The little girl settles into the chair, and as a Star Wars movie begins to play on the TV in front of her, we see the boys weren't just building any space ship. They were building a seat for a truly immersive Star Wars viewing experience, complete with props, water sprays, fans, and the chair that bounces and moves like the ships on the screen. The little girl's eyes get wider and wider as she watches with more and more of the boys' homemade 4D effects.
And then the movie ends, and we realize the little girl is deaf. The boys created that experience for her so she could feel the magic of seeing a Star Wars movie even without the sound. According to the agency, the ad is supposed to show that "the wonder of Star Wars can touch the lives of everyone, even of those who can't hear it."
And cue the tears.
Along with the ad, Globe has launched a holiday fundraising campaign to raise money for virtual schools for people with disabilities. If that ad touched you as much as it did us, you can donate online throughout the holiday season.
This article was originally published on