'Star Wars' Sex Toys: The Force Will REALLY Be With You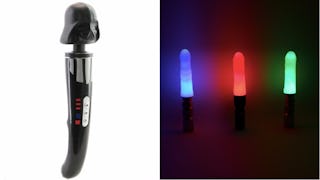 Image via Geeky Sex Toys
The force is strong with this line of sex toys
There's only 18 shopping days left until Christmas and you know what that means. It's time to get online and order some Star Wars-themed sex toys for that special person in your life. Because nothing says Happy Holidays like a Space Station Ball Gag.
The new collection created by Geeky Sex Toys in Brisbane, Australia, have come up with a line of sex toys that includes vibrators, dildos, butt plugs, and even a 6-piece bondage kit, all themed in our Star Wars favorite characters. Because who hasn't wondered what's really under Yoda's robe. Apparently it's a green, wrinkly circumsized penis. Hey, he's 900 years old, what did you expect?
"Judge me by my size, do you?"
If a dildo isn't your jam, they also offer vibrators based on several key characters — Darth Vader, R2-D2, and of course a Storm Trooper. All vibrators come in three speeds so you can explore your galaxy as slow or as fast as you wish. They also have removable heads for easy cleaning because no one likes their Obi Wan dirty.
Darth Vader in your vag. What a time to be alive.
The company also offers a Space Station ball gag for those of us who have been very bad this year. Very, very bad.
Looking for something even naughtier? Perhaps this 6-piece bondage set is up your alley. It comes with the above ball gag but also includes a flogger, adjustable wrist and ankle cuffs, collar with lead, and a masquerade mask. According to the site, "when force choking your partner just isn't enough, you'll need to truly embrace the power of the Dark side." I'm just the messenger here, y'all.
On a brighter note, here's some LED light saber dildos. If you've got kids, you're going to want to lock these puppies up somewhere safe. Nothing like watching your kids battle each other with your sex toys to really kill the mood. They also come with batteries, so sit back, relax, and let them light up your dark side.
Last but certainly not least, there is the C-3 anal plug. According to the site, "This shiny chunk of space metal can be your perfect anal companion." Now I know what has been missing in my life — an anal plug with C-3PO's face staring back at me.
For those of us not living in Australia, the site recommends placing orders before Monday, December 11th December to ensure it arrives before Christmas. Your stocking stuffer game will be strong this year.
This article was originally published on