Starbucks Rolls Out Irish Cream Cold Brew For The Holiday Season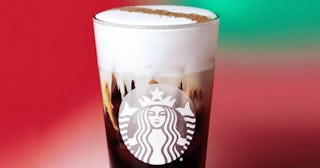 Starbucks
Move over, peppermint mochas — there's a new holiday drink in town
For Starbucks lovers, there's truly no time like holiday time, when the chain rolls out some of its best offerings of the year. Holiday drinks in holiday cups always seem to taste like sweet, happy childhood memories, and the newest drink to hit the coffee chain's limited-time holiday menu sounds like no exception.
This year, Starbucks is breaking the mold a little bit. While the holiday drinks it releases tend to fit the cold and dreary winter weather of November and December by being hot drinks (that can be adapted into Frappuccinos and iced lattes in most cases), this year, we're getting something completely new: A holiday themed cold brew drink. Introducing the Irish Cream Cold Brew, a drink I will be heading out to pick up pretty much the minute I finish writing this article.
It's modeled after the wildly successful (and stupidly delicious) pumpkin cream cold brew that was released earlier this year. The new drink takes Starbucks' signature cold brew coffee, adds a brand new Irish cream syrup, and tops everything off with a vanilla sweet cream flavored milk foam that's dusted with cocoa powder. In other words, it's basically heaven in a "Merry Coffee" cup.
It's been quite a journey over the years to where we've arrived with this cold, creamy brew. It all started way back in 1986 with the eggnog latte. How far we've come.
And even though it's pretty cold outside in a lot of places, people are still embracing the cold brew life like it's mid-July, flooding social media with photos of their Irish cream cold brews.
https://www.instagram.com/p/B5pxRK2FUul/
"It pairs so well with cold brew because of the chocolate flavor in the Irish cream and the cocoa notes from the coffee," Starbuck drink creator Erin Marinan, who invented this beauty, said in a press release. "I think about that customer who's in the middle of work or shopping, and this will help get them into the holiday spirit for the rest of the day."
https://www.instagram.com/p/B5poDB9ADGD/
This new drink follows a trend that has coffee lovers, from the newbies to the total snobs, embracing chilled beverages over hot ones. Starbucks' cold foam, which it first started serving in select roastery locations in 2014, makes a perfect addition to the strong-but-smooth flavor of a cold brew, opening the doors for all kinds of inventive new flavors and drinks.
One great thing about the Irish cream cold brew is that, unlike the pumpkin cream cold brew before it, it can be made using plant-based milk, which means the drink can be made dairy free and vegan. This is big news, since prior to the release of this drink, Starbucks said it couldn't make a plant-based milk foam to top these kinds of drinks that would have the right structure and consistency. This probably means that future cold brew-based drinks will also be vegan-friendly.
https://www.instagram.com/p/B5oipSWHE8v/
Basically, you have no excuse not to drink one of these ASAP, preferably today. I know I'm going to.
This article was originally published on