Starbucks And Ban.do Just Released A New Collection And We Need It All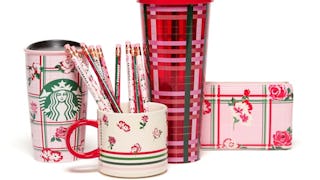 Image via Starbucks
Run, don't walk, to your nearest Starbucks for this adorable ban.do merch
There's one surefire way to know the holidays have officially arrived: when Starbucks starts putting out all its cute new gift sets. And this year, our favorite guilty pleasure coffee chain did not disappoint. In another collaboration with ban.do, Starbucks released a bunch of adorable, limited edition pieces that you're going to have to have on your wish list this year.
The collection comes in the signature pink floral print we love from ban.do, but with red-and-green plaid overlaid to make everything a little more festive for the holiday season. It's all totally gorgeous, obvi.
The new line includes travel mugs, of course.
You can also pick up a ceramic mug for in-home or at-desk use.
And because this is ban.do Starbucks collabed with, there's an adorable pocket-sized pen case available as well.
And a collection of super-cute floral printed pencils to keep in it. You never know when you'll have your next great idea, so it's always good to keep a pencil handy, you know? Especially ones this beautiful.
If you want to just get one of everything to arrange on your desk, go ahead. We won't judge.
All these new items go perfectly with other holiday merch, cups and drinks Starbucks has already released, including adorable red-and-green tartan travel cups.
Basically, all of your holiday shopping can be done at the same time as when you grab your morning coffee on your way to work. It's simple, festive and convenient as heck.
The ban.do collaboration holiday collection will only be available at select stores in the U.S., Canada, China and the Asia Pacific region. That does include stores located inside grocery stores, airports, hotels and retailers (like Target, because we know you're spending pretty much all your shopping time there anyway).
To find your nearest store that's carrying these adorbs holiday items, you can use Starbucks' store locator and search for "licensed stores."
Happy holidays, and happy shopping!