Starbucks Has A New Open Bathroom Policy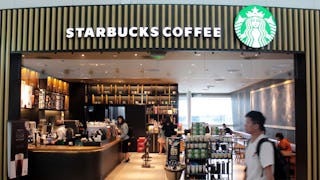 Image via TPG/Getty Images
Starbucks moves to open-bathroom policy
Following the unnecessary arrest of two black men at one of its Philadelphia stores, Starbucks has changed its bathroom policy. The coffee giant will no longer require people to purchase something before allowing them to access the restroom.
"We don't want to become a public bathroom, but we're going to make the right decision 100 percent of the time and give people the key," Starbucks Executive Chairman Howard Schultz said. According to NPR, Schultz was speaking at the Atlantic Council in Washington, D.C. when the company's bathroom policy came up. "Because we don't want anyone at Starbucks to feel as if we are not giving access to you to the bathroom because you are 'less than.' We want you to be 'more than.'"
Starbucks has been rightfully criticized in the last month after business partners Donte Robinson and Rashon Nelson were arrested after one of them asked to use the bathroom before buying anything. Since the men were waiting on a third business associate to arrive, they sat and waited for him after the Starbucks employee denied them access to the restroom. But according to media reports, a Starbucks employee called 911 when the men didn't leave immediately. As their business partner arrived, Robinson and Nelson were being handcuffed despite other people in the store insisting the men had done nothing wrong.
The entire incident was caught on video and quickly went viral on social media. Protests erupted at the store as people demanded Starbucks do something about racial profiling by its employees. The original policy allowed store managers to pick and choose which customers could use the bathroom without making a purchase. Ending that rule is the company's first step in repairing its relationship with customers. "We were absolutely wrong in every way. The policy and the decision she made, but it's the company that's responsible," Schultz explained.
The company is also closing more than 8,000 coffee shops in the U.S. on May 29 for racial bias training. Sherrilyn Ifill, president of the NAACP Legal Defense and Education Fund, is helping design the new training. "Racism is deeply entrenched in our society, and any real effort to confront it means you have to be in it for the long haul," Ifill told NPR. "It means you have to be in it seriously. It means not just training. It means monitoring the effectiveness of that training."
Only time will tell how committed Starbucks is to ending discrimination in its stores. But Schultz promised that the May 29 event is "the beginning, not the end of an entire transformation of our training at Starbucks."
This article was originally published on