Starbucks To Close All Stores For One Day To Address Racial Bias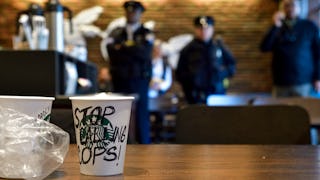 Image via Bastiaan Slabbers/NurPhoto
Starbucks announces it will close 8,000 stores to train employees on addressing racial bias
After a manager called the police who then arrested two black men waiting for a friend at a Philadelphia Starbucks, backlash against the coffee chain has been swift and intense. To their credit, Starbucks' response has been just as fast with the company announcing yesterday that they'll close 8,000 stores for a day next month to conduct racial bias training with their employees.
Naturally, some people aren't pleased. Because some people are awful.
An announcement on their Facebook page explains that on May 29th, thousands of Starbucks locations won't open to the public so employees can learn how to combat racial bias.
The statement reads, "On May 29th, we will close our company-owned stores in the US to conduct racial-bias training in order to address implicit bias, promote conscious inclusion, and prevent discrimination so everyone feels safe and welcome at Starbucks."
The company shares what experts they've enlisted in developing the curriculum for the training and explains why it's so important. "The training will impact nearly 175,000 partners (employees) across the country, and will become core to the orientation process for new partners. These experts will hold us accountable by monitoring and reviewing the effectiveness of the measures we undertake."
They sign off by saying they're "ashamed" of what happened at the Philadelphia location and that they "recognize that racial bias is a problem we need to–and will–address."
Sounds good, right? Reasonable action taken to handle a very real and frightening issue. But of course, plenty of customers disagree. One bright spot? Starbucks' on-point response to their unreasonable customers.
Even while being accused of "caving" to whiners, they're holding their ground.
People are upset that the company's depriving millions of their lattes. Eye roll. Even when faced with this nonsense, Starbucks is keeping the responses classy.
They're patiently explaining the very valid reasons for the action they're taking.
Well. If you're white, you probably can use up the WiFi and the bathrooms and buy nothing. I've certainly done it. More than once. Starbucks knows what happened was wrong and they're making sure it never happens again.
And because it didn't happen to her son, that means it never happens anywhere. Sure, Jan.
PUNISH? I cannot even with this one.
It's probably easy to think it's inflated when you've never been arrested for no real reason.
In a statement, Starbucks CEO Kevin Jones says, "I've spent the last few days in Philadelphia with my leadership team listening to the community, learning what we did wrong and the steps we need to take to fix it."
"While this is not limited to Starbucks, we're committed to being a part of the solution," he explained. "Closing our stores for racial bias training is just one step in a journey that requires dedication from every level of our company and partnerships in our local communities."
Jones also met with the two men arrested in the Philadelphia store on Monday and apologized for how they were treated.
This article was originally published on