Personalized Starbucks Cups Are The Coffee Upgrade We Deserve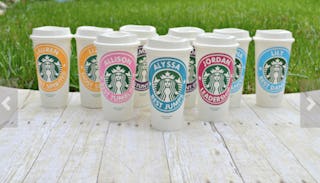 Image via Etsy/CaffeineAndWine
As if you needed one more excuse to drink coffee
Coffee — may you know it, may you love it, may you drink it five times before noon because that's the only way some of us survive. And just when you think your cup of Joe couldn't possibly get any more delicious, someone came up with a personalized Starbucks cup that can say exactly what you're thinking, and now you can love it even more.
Etsy shop owner CaffeineAndWine has come up with the perfect way to express our emotions on a 16-ounce BPA-free Starbucks cup. They come in 24 different colors to choose from and space for 18 characters on the top and another 18 on the bottom so really, the possibilities are endless.
And for a mere $13, you could pick yourself up several depending on your mood. Shop owner Kimberly from San Antonio, Texas gives potential customers suggestions like "Kim's Mo-Joe" and "Melanie's No Touchy" but according to the site you can "get creative with your personalization" which leaves the door wide open for options such as "This May Be Mom's Chard" or " Please Stop Talking Or I Will Pummel You." OK, that may be a little long but you get the drift.
Of course, they would also be a perfect gift for teachers, coaches, or bridal/engagement/baby showers. And if you have kids of a certain age, you know how obsessed they can be with Starbucks Double Chocolate Chip Frappucinos (barf) and all their other very sugary, very teen-friendly concoctions. That means they would also be a great option for a kid's birthday party in lieu of all the Giant Box Of Candy Taped To A Target Gift Card options normally gifted. What a Grande idea.
According to the site, these little gems are hand wash only and not meant for the microwave, so don't let your java get cold. If that means allowing a little more screen time than usual so you can sip your morning coffee by yourself with your feet up on the sofa, so be it.
While it is fun to see how a Starbucks barista will actually spell your name, at least with these cups no one can steal your coffee and pretend they thought it was theirs.
And as an added bonus, if you bring your cup to Starbucks, they'll give you 10 cents off any drink refill. It's a win-win for everyone.