Starbucks Begins Offering Employees Emergency Catastrophe Pay
by Christina Marfice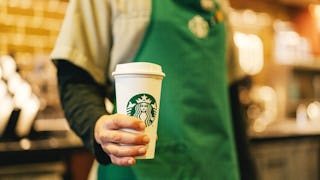 Starbucks
Starbucks has temporarily expanded its catastrophe pay plans to help workers during coronavirus crisis
As the coronavirus continues to spread in the U.S., some of the people most at risk for contracting and helping spread the disease are service workers, especially if they work in high-volume stores like Starbucks. As more and more employees around the world are being urged to work from home, service workers don't have that option.
So now, just after announcing paid sick leave for quarantined employees from a Seattle store where an employee tested positive for the virus, Starbucks has announced a number of changes to its catastrophe pay plan to help workers navigate the current crisis, especially if they do get sick.
First, any Starbucks employee who is diagnosed with coronavirus — or comes into contact with someone who has been diagnosed — will be able to self isolate at home for two weeks with full pay. If those two weeks run out and a worker is still sick or showing symptoms, they can access up to 26 weeks of additional paid leave.
If an employee is showing symptoms of the virus, but they have not been diagnosed and have not been in known contact with anyone who has, they can self isolate at home for 24 hours, then use catastrophe pay funds to cover all their scheduled shifts for up to three days before having to use their own sick pay. If they go to a doctor and are diagnosed with coronavirus, the first policy kicks in and sick leave applies for up to 26 weeks.
Additionally, Starbucks is matching donations to its CUP fund, a communal effort that raises money for employees in need. Currently, the chain is offering $1 for every 50 cents donated.
"At Starbucks, you should never have to choose between work and taking care of yourself," Rossann Williams, Starbucks' executive vice president, wrote in an open letter to the chain's employees and the public. "You have our full support when it comes to partner care, including access to catastrophe pay, benefits that support your physical and mental health, as well as a network of partners who are all here to help."
As far as protecting customers, CEO Kevin Johnson says store closures as a means of protection is not out of the question. "As a last resort, we will close a store if we feel it is in the best interest of our customers and partners, or if we are directed to do so by government authorities. In any such situation, we expect store disruption to be temporary," he says in a press release provided to Scary Mommy.
This news comes after Starbucks announced that it would indefinitely suspend its program that offers discounts to customers who bring in their own cups and mugs. Customers who bring their own beverage containers are still offered the usual discount, but baristas will only make drinks in disposable paper and plastic cups for the time being.