This Is Not A Drill: Starbucks Delivery To Roll Out Across US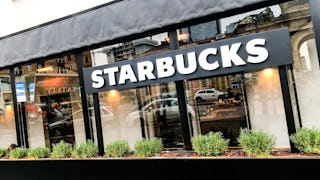 Image via Mairo Cinquetti/NurPhoto/Getty
Now we can drink Starbucks without having to put on a bra and get in the car, #blessed
What's better than drinking your favorite Starbucks latte in the comfort of your own home? Not having to leave your house to enjoy it, that's what. In early 2019, Starbucks delivery services will be available in a portion of its stores, so we already have something to look forward to in the new year.
Starbucks announced the decision yesterday, stating that a quarter of their stores will begin offering delivery services. There are over 14,000 Starbucks locations across the U.S., so that's actually a lot of stores that'll be rolling out this new offer.
After finding success with the program, Starbucks Delivers, in China, the company feels it's time to spread the love over here in the U.S. Back in August, Starbucks began working with Ele.me, China's leading on-demand food delivery platform. As of this week, they've successfully rolled out delivery services through 2,000 of the country's stores across 30 cities.
U.S. coffee-lovers can get Starbucks delivery orders via Postmates in several cities, but it's not an official partnership and Postmates also tacks on their own $5.99 delivery fee. There's a limit of 8 orders maximum, which can be kind of a pain for offices with large drink orders. There's no word yet on drink limits for the new, official delivery program.
While pretty much any human being who requires caffeine to function every day will surely be excited about this new endeavor from Starbucks, this is especially great news for moms everywhere. No more bundling the kids up and buckling them in just to hit up the Starbucks drive-thru.
Now we can sip our holiday lattes and flat whites and macchiatos without ever having to put on a bra or get inside a freezing cold car!
If you're excited about Starbucks Delivers, keep your eyes peeled (with or without the help of caffeine) to see if the program is coming to your area.