Starbucks Will Start Donating 100% Of Its Unused Food To Those In Need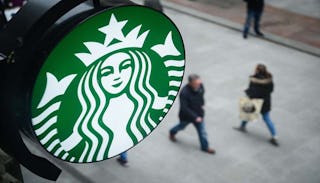 The Starbucks logo is pictured outside a branch of the coffee shop chain in Dublin, Ireland, on February 25, 2016. / AFP / LEON NEAL (Photo credit should read LEON NEAL/AFP/Getty Images)
Starbucks' new FoodShare program will feed the hungry and keep waste out of landfills
Have you ever wondered what happens to all of the prepared foods that stores make fresh daily and don't sell? Largely, it gets thrown in the trash. We throw away a lot of food in this country, and it's not just retail stores doing it. 15 million U.S. children are hungry and we throw away 40% of our food.
"Starbucks has been investing in research and quality assurance testing to develop a way to safely donate fresh food," reads a press release about the company's new "FoodShare" program. "In the first year alone, Starbucks® FoodShare will be able to provide nearly 5 million meals to individuals and families in need of nourishing food. Starbucks intends to scale this program over the next five years and rescue 100 percent of its food available for donation from participating company-operated U.S. stores."
That amounts to almost 50 million meals by 2021.
Did you know that a third of the world's food supply is wasted? The world produces enough food to end hunger. Instead, we are filling landfills instead of bellies. Companies like Starbucks can make a huge difference. Not only will they be feeding people who are hungry, they will be greatly reducing their own carbon footprint. Imagine how much perfectly good food gets tossed into landfills?
According to Feeding America, there is an estimated 70 billion pounds of food waste in America each year. "Our hope is by taking this first step, other companies will see the possibility for their participation and together we will make great strides in combating hunger," said Cliff Burrows, group president, Starbucks U.S. and Americas. "FoodShare will not only make our partners proud, but once again will allow us to live our values."
Last year, France made it illegal for supermarkets to destroy unsold food. Stores are now mandated to donate all food they would normally toss into the dumpster to charity. With so many people hungry in this country, this seems like some necessary and brilliant legislation. The way it works is, food that is deemed unsellable but still edible is donated to charities, food that definitely isn't safe to eat is donated to farms for use as animal feed or compost. The amazing thing: Starbucks didn't wait for it to be legislated. They initiated change themselves.
"This food is going to make a difference, whether it's a child not going hungry for the night or a family that's able to enjoy a protein plate that they would not have otherwise been able to afford at Starbucks," said Kienan McFadden, a Starbucks store manager. "Rescuing food in this way from being thrown away will change lives."
Fact: "We produce enough food to provide every person on Earth with 2,700 calories per day. Yet 842 million people still go to bed hungry."
Thank you Starbucks, for leading the charge to make a real change in the way companies deal with food waste.
This article was originally published on