Starbucks Is Giving Free Coffee To First Responders And Healthcare Workers
by Cassandra Stone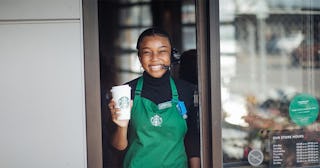 Starbucks Stories
All front-line responders will get free coffee from Starbucks as the pandemic continues
Starbucks is announcing that they are now offering free coffee to anyone working along the front lines to help with the COVID-19 outbreak as a way of thanking them for their help.
Now through May 3, individuals who identify as a first-responder or healthcare worker will receive a free tall brewed coffee, hot or iced, from Starbucks. Eligible customers include police officers, firefighters, paramedics, doctors, nurses, hospital and medical staff, and medical researchers.
https://www.instagram.com/p/B-AqXYQpORE/
The idea originated with a Washington Starbucks store manager, Kyle Hansen. "When it hits two miles from your store it feels very different than when its farther away," he tells the Starbucks Stories blog. "I could see the weight of everything going on right now with the coronavirus, the weight of everything going on in the world right now, heavy on their shoulders."
He decided to offer coffee to people working and helping in his community. "We may have to get creative, but there's always something small we can do to make a difference – to uplift the days of people who are going through a really hard time."
Soon, Starbucks partners all over the world took hold of the same opportunity. The coffee chain has now been serving and delivering coffee to hospitals, grocery stores, nursing homes and front-line workers of all kinds.
The company recently announced that because of the coronavirus pandemic, they will continue to pay all store partners for the next 30 days emergency catastrophe pay. The Starbucks Foundation has also pledged to donate $500,000 to front-line responders in the United States.
The donation will be divided equally between the organization Direct Relief "to support the delivery of personal protective equipment and essential medical items" and Operation Gratitude, which will "deliver 50,000 care packages and handwritten letters to first responders and health care workers."
"I am inspired by our Starbucks store partners around the world who proudly wear the green apron and who are rising to the occasion. They demonstrate our resilience and our commitment to the communities we serve," says Starbucks chief executive officer Kevin Johnson in a letter to customers and partners.
"It is the responsibility of every business to care for its employees during this time of uncertainty, shared sacrifice, and common cause. I hope to see many business leaders across this country doing all they can to retain jobs, pay employees, continue benefits, and demonstrate compassion as they make critical decisions. Not every decision is a financial one."