Starbucks Holiday Drinks Are BOGO All Weekend, So Grab Your BFF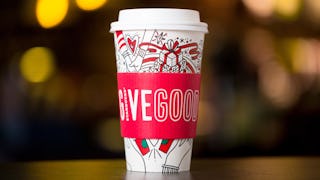 Image via Joshua Trujillo/Starbucks
The Starbucks BOGO deal includes all the holiday drinks
In case you needed some great news today, we totally have it — Starbucks holiday drinks. BOGO. All weekend long.
That's right — our favorite seller of tasty java poured into creative, holiday-themed cups (for a limited time!) is doing a buy-one-get-one-free deal starting tomorrow, and lasting through Monday, November 13. It's called the Give Good Share Event, and we're irrationally excited about it. For an entire five days, you can get a bonus holiday drink for every one you order, as long as it's purchased between 2:00 and 5:00 pm.
Which, let's face it, is prime slump time, whether you work in an office or stay at home with the kiddos.
As I type this, I'm staring at my coffee maker, willing it to make a pot all on its own with no effort from me — because, slump. I have a Starbucks right up the road, though. So during tomorrow's draggy hours, I may have to pop out and grab a peppermint mocha with my neighbor.
Also, it's about time to get moving on that Christmas shopping list, and what better way to tackle it early than with a Starbucks in hand, a friend who also has a Starbucks, and all of Target just waiting for you to browse for hours.
Oh, did we mention it's all the holiday drinks featured in this deal? AKA, the most delicious drinks of all? Your choices include chestnut praline latte, peppermint mocha, caramel brulée latte, gingerbread latte, eggnog latte, holiday spice flat white, and Teavana Joy tea. All in either hot, iced, or blended, of course.
Now that you've heard this wonderful news, let us put a cherry on top. And by cherry, we mean cake pop, because S-bucks is including them in their BOGO deal too. It's like they know us or something. So instead of getting a coffee with a friend, you could get a coffee and a cake pop for yourself.
Because we deserve it.
This article was originally published on