Starbucks Debuts New Holiday Cups — And Dairy-Free Holiday Drink
by Christina Marfice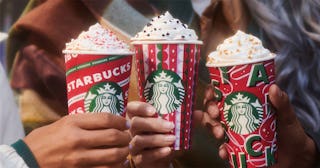 Starbucks
Starbucks just debuted its new holiday cups, announced a new dairy-free holiday drink, and revealed when holiday drinks will be available — Happy Holidays, y'all!
It's officially the most wonderful time of the year: Starbucks holiday drink season. Say what you will about celebrating Christmas-y things before Thanksgiving, but I personally like to have a peppermint mocha in my hand the minute temperatures dip below freezing, OK? Starbucks clearly gets that, because just days after Mariah Carey announced the official start of the holiday season, the coffee chain announced its annual Christmas tradition: A new lineup of holiday cups, all your favorite festive drinks, and its first-ever non-dairy holiday beverage, joining the lineup this year. These are the tidings of comfort and joy we've been waiting for.
For whatever reason, Starbucks' holiday cups can be very controversial. But we can't imagine anyone taking offense to any of this year's designs, all of which are inspired by giving. There are four cups altogether, and honestly, each design is cuter and more festive than the last. Your options are:
Wrapping paper: A bold, geometric pattern that reminds us of a wrapped holiday gift — or maybe a Christmas sweater.
Ribbon: Curly-cues of ribbons cover the whole cup.
Holiday lights: A red cup is encircled with strings of lights, which are shaped like the letters that spell "Starbucks."
Candy cane: The Starbucks name wraps around the cup in a candy cane pattern, which is truly as Christmas-y as it gets.
Along with revealing the new cup designs, Starbucks also announced when you can get your hands on one. Holiday beverages return to the chain tomorrow, Nov. 4 — which means that tomorrow morning, in addition to getting a celebratory cup on your coffee run, you can fill that cup with Peppermint Mocha, Caramel Brulée Latte, Chestnut Praline Latte, Toasted White Chocolate Mocha, or Irish Cream Cold Brew.
And for my fellow lactose-sensitive Starbucks lovers, there's a new drink this year that's just for us: The Iced Sugar Cookie Almondmilk Latte, which is the first dairy-free beverage to ever be a part of the holiday lineup. It's Starbucks blonde espresso, along with sugar cookie syrup, ice, and almond milk, topped with red and green sprinkles. I would like that in my mouth now, please.
Of course, you'll also be able to nab some holiday treats, because what's a coffee run without getting a little something to nibble on? Reindeer Cake Pops, Sugar Plum Danishes, Cranberry Bliss Bars, and Snowman Cookies will all be back this year.
If anyone needs me tomorrow, I'll be at Starbucks.