Starbucks Holiday Merch Is Already Here And It's SPARKLY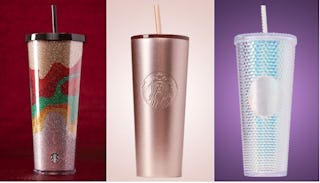 Image via Starbucks
Starbucks' new holiday cup collection looks like a wintry dream come true
Summer is officially over, there's a nip in the air, and winter is almost around the corner. In celebration of the upcoming icy months, Starbucks released a sneak peek of their new holiday cup collection. It's ridiculously cute, sleek, and will make you ready to drink all the hot chocolate, with all the marshmallows.
Cue Mariah Carey's "All I Want For Christmas," as you scroll through.
Starbucks is officially kicking off a ninety-day countdown until Christmas. Is that a little bit premature? Maybe. But just look at the cups they've created in celebration of the holidays. There isn't a Christmas grinch around who wouldn't want to sip something nice and hot out of this sleek, caramel covered tumbler ($19.95).
Or, get a little funky with this Iridescent Cold Cup ($18.95).
You can also satisfy your deepest, most #basic urges with this rose gold cup ($22.95).
Because, no matter how hard you fight the urge, there's always going to be something super enticing about rose gold, cute unicorn products, and things that taste like pumpkins.
If you want to get even more glittery, you can go with this colorful number, which is packed with rose gold, gold, bright green, and orange sparkles. If this doesn't make you less cranky in the morning, then I don't know what will.
Or, keep it a little more low-key with this black sequined cold cup ($17.95). Who knew black sequins could look quite so elegant on a Starbucks cup? Pass my tiara, plz.
If you're looking for a slightly more traditional purchase, you can go with this stainless steel tumbler ($17.95). It has a playful hint of green glitter, so you'll still look styling but there's definitely no cause for public embarrassment.
Same goes for this stainless steel tumbler ($17.95), which has just a classy hint of red splashed in the ombre-like design.
Okay, I definitely smirked when I saw that Starbucks was already talking about the holidays. Now, I would like all the cups above. Bring on the sparkles, the sequins, and the Mariah Carey Christmas music.