Starbucks Just Released Their 2018 Holiday Cups And Drinks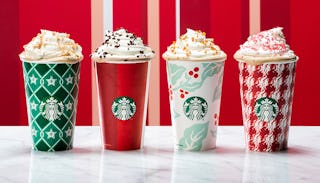 Image via Joshua Trujillo, Starbucks
Starbucks is releasing their holiday cups and drinks tomorrow!
Halloween ended five minutes ago so obviously, it's time for the Thanksmas season to crash into our lives like a happy holiday Kool-Aid Man. We welcome the early onset of all things jolly because it means one very exciting thing — Starbucks is dropping their new holiday cups and drinks.
Us moms don't have a whole ton of things we look forward to, but Starbucks' yearly release of their fun and festive items is absolutely a highlight. Don't @ us. This year's lineup is pretty adorable, so get pumped — it's about to get so seasonal up in here.
Without further ado, the cups, which end up being a lightning rod for controversy most years for not being Christmas-y enough. Because people are totally freaking ridiculous. Looks like they may have nailed it this year, it's all very merry.
The designs are called, from left to right: Stargyle, Espresso Houndstooth, Stripes, and Flora (my personal fave).
Cute, right? There's more to these cups than meets the eye with the designs reflecting the company's long history of holiday cheer. "We started this season by looking to the past," said Kristy Cameron from the Starbucks Creative Studio. They went with a vintage vibe, using snippets from their past such as, "a star, a branch of coffee cherries, a flame."
"Looking back at our heritage, we found something lovely in our own story, with beautiful coffee and flavors that come together to make the season magical," Cameron said.
Of course, it's not just the cup design that Bucks fans have to look forward to — our favorite seasonal flavors are making their return as well. "Starting tomorrow, Starbucks stores in the United States and Canada will be decked for the holidays to mark the return of the seasonal flavors of Peppermint Mocha (back for a 16th year!), Toasted White Chocolate Mocha, Caramel Brulée Latte, Chestnut Praline Latte, Gingerbread Latte and Eggnog Latte, all available hot, iced and Frappuccino blended beverages," the company said.
Cameron knows why we can't stay away from our fave caffeine purveyor, especially during the Christmas season. "When you come into Starbucks, there's a festive vibe," she said. "Our customers have told us that the return of Starbucks holiday cups and beverages are a signal the season is upon us. We hope they feel the holiday magic that only Starbucks can create during this special time of year."
Along with the beverages comes some pretty dang cute snacks and treats. "New holiday food to savor this season includes Chocolate Swirl Brioche, a buttery brioche layered with a dark 'fudgy' chocolate filling, Pistachio Honey Croissant, and the Sugarplum Cheese Danish, made with buttery croissant dough topped with creamy cheese filling and plum spread," they write.
Thankfully, the arrival of new goodies doesn't mean our old favorites won't be there. We can still expect to see Gingerbread Loaf, Penguin Cake Pop, Peppermint Brownie Cake Pop, Snowman Cookie, Cranberry Bliss Bar, Carved Ham & Swiss Breakfast Sandwich and Holiday Turkey Panini.
It all drops tomorrow when baristas across the country will swap their green aprons for red — and let the holiday madness begin.
This article was originally published on