Starbucks Pauses Personal Cup Refills Amid Coronavirus Fears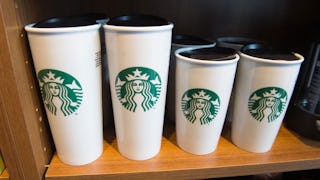 SAUL LOEB/Getty
To help with coronavirus concerns, Starbucks isn't letting customers bring in their own mugs
If you're an avid Starbucks drinker, one of the best ways you can save money (and help out the environment in the process) is to bring your own refillable mug or thermos into the store when you go. The baristas there will fill it with your drink of choice, you get a 10-cent discount (which really adds up over time, let me tell ya), and you get to remove a few pieces of trash that would otherwise likely go to landfills. Wins all around.
But now, amid mounting fears of the coronavirus spreading in the U.S., Starbucks has announced that it temporarily will stop accepting personal cups, mugs, and tumblers at all of its North America stores. They believe this might help prevent spread of the virus. Customers can still bring in their own cups to get the 10-cent discount, even though their drinks will be served to them in disposable paper or plastic cups for now.
"We are optimistic this will be a temporary situation," Rossann Williams, Starbucks' president of company-operated businesses, said in an open letter on the company's website. "We will continue to communicate with transparency and act courageously and responsibly to ensure the health and well-being of our partners and customers."
This isn't the only measure the chain is taking to help customers avoid the coronavirus, which is likely to spread quickly and easily in high-traffic food service businesses like Starbucks. The company is mandating more frequent cleanings at all of its stores. It's also suspended all business-related air travel — both international and domestic — for all employees for the rest of this month. Large meetings at corporate offices in the U.S. and Canada are being postponed or held by video conference, rather than in person.
We don't know how long the bring-your-own-cup program will be suspended, but experts continue to warn that the coronavirus could be a serious outbreak in the U.S., especially with our country's lack of paid sick leave for 25 percent of all workers. Its spread in other parts of the world has been rapid and deadly — experts now say COVID-19, the respiratory illness caused by the virus, kills more than 3 percent of people who contract it.
To best protect yourself against the virus, experts say you should wash your hands frequently, avoid touching your face, and self-isolate and consult a doctor if you show symptoms including a fever and difficulty breathing.