Starbucks Vows To Stop Using Plastic Straws By 2020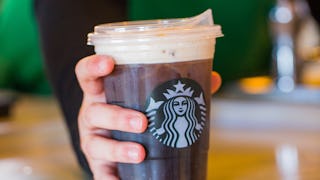 Image via Starbucks
Starbucks is now the largest global food and beverage company to eliminate plastic straws
As the public calls for eliminating plastic straws in an attempt to cut down on the amount of plastic in the ocean, Starbucks just announced a huge step: It vowed to eliminate plastic straws from all of its stores globally by 2020.
According to a company release, that means more than 28,000 Starbucks stores worldwide will be moving to alternative straws, like types made out of paper or compostable plastic. It's also rolling out a new strawless lid made of recyclable plastic for cold beverages. The news lids are already available in around 8,000 stores.
The move to eliminate plastic straws will start in Starbucks' Vancouver and Seattle locations, and roll out across the globe over the next year and a half. Estimates say this could eliminate 1 billion plastic straws per year from landfills and the ocean. Sea turtles everywhere are rejoicing.
"For our partners and customers, this is a significant milestone to achieve our global aspiration of sustainable coffee, served to our customers in more sustainable ways," said Kevin Johnson, Starbucks' president and CEO.
But while this is a huge step forward for environmental sustainability in fast food, the plan isn't without criticism. Some say replacing plastic straws with plastic lids, even if they are compostable, just kicks the can down the road, and Starbucks will have to replace this sustainable solution with a more sustainable solution later.
But some of the strongest criticism says many people with disabilities need straws to drink, and say the alternatives to single-use plastic straws won't meet their needs.
The good news, though, is that this isn't Starbucks' only move toward making its business practices more sustainable. The company already uses 99 percent ethically sourced coffee (though why that isn't 100 percent is a big question), charges a paper cup fee in its UK stores to promote reusable cups, uses renewable energy certificates to power more than half its stores and donates unused food from its US stores to food banks.
The important (and celebration-worthy) part of this announcement is the fact that a huge, global food provider is making changes to better protect the planet. Now here's hoping that others will follow suit.
This article was originally published on