Pumpkin Spice Lattes Are Back Next Week!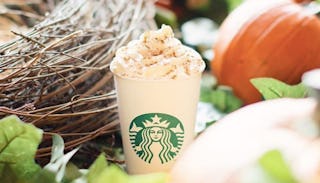 Image via Instagram/Starbucks
Pumpkin Spice Lattes will be back on the Starbucks menu earlier than usual for 2018
Deep breaths, fall fans. This is not remotely a drill. Starbucks is bringing back the official drink of fall a full week earlier than last year. That's right — you can get your Pumpkin Spice Latte on just a week from now.
While some fools are still baking in their bikinis, you have your scarf and Hunter boots on. You're ready to pick apples, stroll through the crunchy leaves, and put your Instagram Husband to work capturing you at your autumnal best. And this year, you can have the best fall photo accessory ever — the PSL — a whole week earlier than usual as Starbucks is releasing the incredibly popular drink on August 28th, according to Fortune. Yup. Before Labor Day.
This is basically the best news ever if you're as Basic as I am. And you know you are. Don't lie.
Earlier this month, the official Pumpkin Spice Latte Twitter account (yes, this baller fall beverage has its very own social media presence) hinted that big things were already brewing for the upcoming season.
Is it still 90 degrees in like, half the country? Yup. Is actual fall not until the end of September? Right again. Do we care? Absolutely not. We're so here for the earlier arrival of this most magical elixir.
This year marks the 15th season for the PSL, and it's big business for 'Bucks. Fortune reports that in its first decade of sale, the coffee giant sold 200 million of them. Pretty sure I'm solely responsible for at least 100 million of them.
All we have to say is, bring it.
This article was originally published on