Starbucks Rose Gold Merch Is Here, Just In Time For The Holidays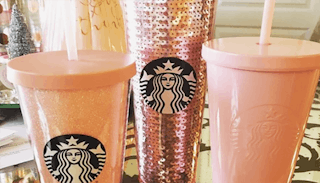 Image via Instagram/ girlyglitzyglam
Buy all the cups, drink all the things
As delicious as it is, one cannot live on hot coffee alone. Starbucks knows this, which is why our favorite java chain has gifted us with a line of gorgeous cold drink cups, just in time for the holidays. Because if you're going to hydrate, you deserve to do it like a queen.
https://www.instagram.com/p/BbUxuRTn6Y7/
For those of us who are still bummed we didn't get our hands on a pair of rose gold Minnie Ears (raises hand) there are lots of lovely options here to help us feel like we didn't miss out on the trend completely. I'm partial to the glittery rose gold cup personally, but one can never underestimate the wow factor of sequins.
https://www.instagram.com/p/BbViy5LFNMt/
Starbucks doesn't have an online store anymore, so you'll have to snag one the next time you're in line for a Peppermint Mocha. Or more than one. After all, we're supposed to drink 8-10 glasses of water a day right? So it makes sense that you need the venti-sized sequined one and the grande-sized glitter one too.
If you're more of a Cady than a Regina and pink just isn't your color, get in loser, we're still going shopping. The sequined cup comes in mint and silver too.
https://www.instagram.com/p/BbUxs2ijyB2/?tagged=starbucksholidaycups
And you can snag the glitter cup in silver and white.
Let's be honest — while owning something pretty is nice, it's great when something is functional too. Not only are these cups beyond cute, they'll probably help us drink way more water.
https://www.instagram.com/p/BbYThbEA6dr/
Here's our Starbucks card, barista. Charge away.