Starbucks' Spring Coffee Cups Are So Cute No One Is Even Mad About Them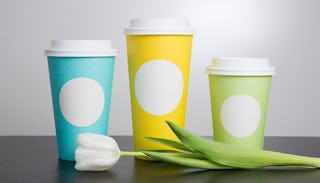 Image via Joshua Trujillo/ Starbucks
Starbucks releases new cups for spring, and no one is mad
For the first time ever, Starbucks is releasing "spring" themed cups. They've tackled autumn, summer, and winter, but isn't everyone excited for spring right now? The only usual diversion from their signature green and white cup are their holiday editions, which always cause an uproar for not being "Christmas-y" enough. These new spring arrivals are causing no problems on the internet because they are so dang cute.
Just look these? How could you get mad at this?
It's an adorable smiling sun, an umbrella, and an adorable little smiling face. There's also a twee little bunny:
A pleasant wreath:
And a gourd or vase or whatever this is:
Starbucks even covered those people who hate sunshine, spring showers, bunnies, wreaths, and the laughter of small children by creating another look that we'll henceforth refer to as, "The Spring Void" or "I Hate Cute Things But I'll Deal With Pastel. Just Give Me My Coffee."
You can even bring a marker and draw your own design.
Good job, Starbucks. And also, dammit Starbucks. Cup outrage is so entertaining. You've really missed an opportunity here. Oh, well. There's always next year.