All The Details On Starbucks' New Instagram-Friendly Tie-Dye Frappuccino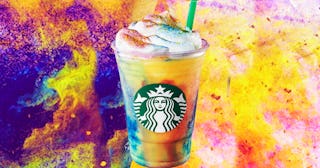 Starbucks
The Tie-Dye Frappuccino is Starbucks' latest Instagram-friendly drink
Thanks to social media and the obsession with photographing one's food and drink, Starbucks has, in recent years, rolled out the most colorful, whimsical, and Instagram-ready Frappuccinos. They released the limited-edition Dragon Drink in April of this year, which was a bright pink Frappuccino made with Dragonfruit flavors, mango, and real fruit juice. There was also the Crystal Ball Frappuccino, which tasted like peaches and cream and claimed to tell your future. It was also very photogenic.
The latest Starbucks drink to follow this trend is the Tie-Dye Frappuccino, which arrived at Starbucks stores on July 10 and will only be here for a limited time, so act fast or you'll miss out on this super sweet Insta-trap.
According to a press release, the colorful Frap is "a tropical Crème Frappuccino with dashes of powder in yellow, red and blue (which gets its color from red beet, turmeric and spirulina) that mix to make a rainbow of vibrant hues. The beverage is topped with whipped cream and a final dusting of colored powder."
According to people who have tried the drink, it tastes like banana, Fruity Pebbles, and Fun Dip.
"We wanted to create something that celebrates summer and really conveys it both visually and through flavor within the beverage," says Paloma Carrington-Bataller, who created the drink.
Based on the photos that have made it to Instagram thus far, some of these drinks really are beautiful.
Case in point:
Others… not so much.
As much as we, the consumers, love these silly, fruity, colorful drinks — baristas apparently hate making them. So if they roll their eyes when you order one, try not to take it personally.
According to Business Insider, customers show up in droves whenever there is a new seasonal limited-edition drink. For baristas, this means multiple time-consuming steps in order to achieve the tie-dye effect, which slows down the process and is generally annoying.
On the other hand, these baristas look pretty happy about the new drink launch.
We guess our parting words are: Respectfully enjoy this colorful, complicated drink — and if it takes your barista a little longer to make, well, that's how you know you're getting a piece of drinkable, social media brag-worthy art.
This article was originally published on