Starbucks Unveils Ice Cream Coffee Drinks Because We're Not Spending Enough Money There Yet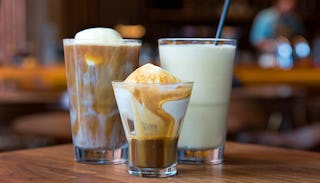 Image via Starbucks
Ice Cream with a side of coffee is the latest winning combination from Starbucks
Coffee fuels the world, especially the world of a parent. Our days often start at the crack of dawn and sometimes run until the wee hours of the night. When there is no sleep, there is caffeine. It's quick, it's easy, and uppers are illegal.
For those of us who love coffee and have a sweet tooth, our java prayers may have finally been answered. Starbucks is adding ice cream to its menu. We repeat, you can now order ice cream in your Starbucks coffee.
Business Insider reported the highly anticipated ice cream will be sold on Starbucks' Roastery Affogato menu, merging the glory of all that is ice cream and espresso. Affogatos, an Italian treat, are created by pouring a shot of espresso on top of a scoop of ice cream. The items will be available beginning today in Los Angeles, Boston and Washington, DC and then rolled out to cities around the country. The Affogato menu was already small market tested in their Seattle Roastery and quickly became a top five menu item.
Because, duh.
Between the sugar and caffeine, I am looking forward to getting all my Saturday errands completed by 8:49am and spending the rest of the day relaxing, reading a book, and maybe even taking a nap. Oh wait, I have three kids.
The new menu items will range in price from the Classic Affogato for $6 to the $8.50 Cold Brew Malt, made with small-lot cold brew, vanilla ice cream, and chocolate bitters. A bit on the pricey side but shut up and take our money it's coffee with ice cream in it. And hey, at least it's not as bad as the $47.30, "Quadriginoctuple Frap" some guy in Washington state ordered, described as a "48-shot mocha Frappuccino" with every ingredient behind the counter thrown in for good measure. We're pretty sure that guy had the most productive day ever right before his stomach exploded.
Starbucks will be testing less expensive alternatives at another 100 locations in California for those of us who like our coffee and our money. The java giant has successfully driven up sales over the years in part by introducing pricier new items including the bistro boxes, hot breakfast sandwiches and salads. The Roastery Affogato menu will be no exception, but it includes ice cream so we are probably just going to hand over our wallets regardless.