Starbucks Unicorn Frappuccinos Are Here And People Are Freaking Out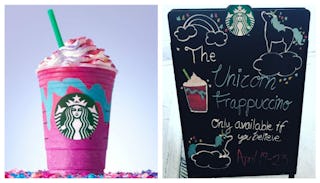 Image via Starbucks/ Instagram
Starbucks is making things magical — for five days only
There has been a rumor swirling around for days that a Starbucks Unicorn Frappuccino exists. Well, today Starbucks confirmed that it in fact — does. The catch? It's about as elusive as its namesake; it's only available in certain stores, and only for five days.
"The elusive unicorn from medieval legend has been making a comeback. Once only found in enchanted forests, unicorns have been popping up in social media with shimmering unicorn-themed food and drinks," Starbucks' press release reads. "Now Starbucks is taking the trend to a new level with its first Unicorn Frappuccino blended beverage, available starting Wednesday, April 19, through Sunday, April 23, while supplies last."
Why five days? Maybe they want to see how people respond to these *interesting* flavors.
"The Unicorn Frappuccino blended crème is made with a sweet dusting of pink powder, blended into a crème Frappuccino with mango syrup and layered with a pleasantly sour blue drizzle. It is finished with vanilla whipped cream and a sprinkle of sweet pink and sour blue powder topping," the press release explains. May I be the first to say… barf.
It is pretty though.
"Like its mythical namesake, the Unicorn Frappuccino blended crème comes with a bit of magic, starting as a purple beverage with swirls of blue and a first taste that is sweet and fruity. But give it a stir and its color changes to pink, and the flavor evolves to tangy and tart. The more swirl, the more the beverage's color and flavors transform."
Purple is not a flavor. Neither is blue or pink. But again, it is pretty.
Someone really needs to try this tomorrow and report back.
This article was originally published on