State Department Gets Roasted For Tone-Deaf 'Family Travel' Q&A On Facebook
by Cassandra Stone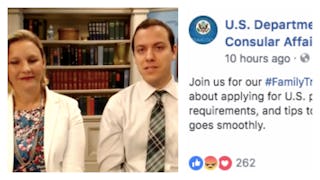 Image via Facebook/U.S. Department Of State
The State Department is being torn to shreds in the comments section of their latest live video
In more news that will have you asking, "Is this real life?" — a government agency had the gall to host a Facebook Live Q&A about family travel. That's right, the State Department — the department that oversees international travel — held a cutesy live video with the hashtag #FamilyTravelHacks.
They even asked everyone participating to "ask questions about document requirements." Yes, this is somehow real life.
There aren't enough abhorrent words in the English language to describe just how fucked up it is for this "family travel chat" to occur at the same time thousands of families are being ripped apart at the U.S. border.
And boy, did the commenters let 'em know about it.
The full event description reads: "Join us for our #FamilyTravelHacks chat! Ask us your questions about applying for U.S. passports for your kids, document requirements, and tips to make sure your vacation this summer goes smoothly."
Passports for kids, huh? Tips for traveling smoothly with kids, eh? Could this be any more tone-deaf and insensitive? I think it's actually cruel. Families seeking refuge are being tortured by the United States government and THE STATE DEPARTMENT is going to pretend all is jolly and well with a thinly-veiled-subtext 'For White Families Only' vacation video? GTFOH.
You almost have to wonder if this was done on purpose. And people all over the world reacted about exactly as you'd expect they would.
The sad part of all of this is that no one here is joking. Things are so fucking grim, these all count as legitimate questions for the State Department. And if they're gonna host bullshit Q&A sessions like this amid the horrors happening at the border and beyond, this is what they get.
Correction: this is the least of what they should get.
If you, like anyone with a soul and unlike anyone in the Trump administration, want to help these families, try donating to RAICES, a 501(c)(3) nonprofit based in Texas. They have two major goals: to fund the bond necessary to get parents out of detention and reunited with their children while they await court proceedings, and to ensure legal representation for every child in Texas' immigration courts.