States Are Starting To End The Tampon Tax, And It's About Time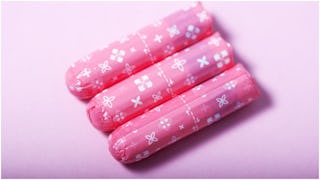 Image via dstaerk/Getty
More and more states are finally getting rid of tampon taxes
It seems like the powers that be are finally catching on that menstrual products are expensive, hugely necessary, and therefore, shouldn't be subject to sales tax. More and more states are starting to exempt tampons and pads from taxation, according to a report from NPR, which could have a seriously significant impact on people who are already burdened by the expense of paying for a box every single month.
This shift on tampon taxes is a new (and hopefully continuing) trend. There are currently nine states where menstrual products aren't subject to taxes and seven states where legislation is still pending. In the past two years, New York, Connecticut, Illinois and Florida all agreed to nix taxation on menstrual products. Meanwhile, Nebraska, Virginia, and Arizona introduced bills this year, and Ohio successfully passed legislation in 2017.
"We were so happy," Ohio state Rep. Brigid Kelly told NPR. "This is a very simple practical thing that we can do in order to make necessary medical products more accessible to women in our community."
Kelly added that while the sales tax "does not amount to much," it can still make a really, really important impact on a struggling mom's day-to-day life.
"When you're trying to figure out if you can give your kid milk money or if you have enough to get your own lunch then it is impactful in a very significant way," she said.
If you add up all the tampon taxes, it's actually pretty infuriating how much women have to pay. California assemblywoman Cristina Garcia said, per The Washington Post, that women in her state pay $7 per month for tampons and pads. That's more than 20 MILLION DOLLARS in taxes every year. Garcia called that taxation "unjust" and a form of "gender injustice" — which couldn't be more true.
If your head is currently on the brink of explosion, consider the fact that Viagra isn't taxed in a lot of states. Freaking VIAGRA. Inequality at its finest.
Thankfully, there's a policy organization that's got our back. Period Equity works on legal cases combatting tampon taxation — and they've been really, really successful so far. Their team helped push forward New York City's menstrual equity laws and has been instrumental in expanding access to feminine hygiene products throughout the city. Also, they shot an ad with model Amber Rose that hilariously burns this ridiculous tax. Lots and lots of snaps all around.
Sadly, there's still a lot of work to be done. California (where, I repeat, women are paying millions of dollars in taxes for their tampons) still has yet to budge on the issue. Utah's attempt at legislation failed last year.
*Sigh.* Here's hoping that more and more states will continue to step up to the plate and do the right, sensible thing. If not, let's just figure out a way to take away all their damn Viagra. Fair is fair.